By Anne Dalling
New Zealand angler Robert Aukett also fishing on board 'Reel Chase' tagged and released a giant black marlin estimated at 1,100 pounds on October 15th.
Some of the more notable captures this season were – 1,260 lbs taken on 'Sea Baby IV' in mid October;   1,170 lbs on 'Assegai' on October 25th;   1,278 lbs on 'Calypso' by angler Adam Atkins on October 26th;   1,256 lbs on 'Kanahoee' on October 31st.
On November 8th, Captain Craig 'Sparra' Denham on 'Manukai' weighed a whopping 1,389 lb giant black marlin that an angler on board caught at Number 5 Ribbon Reef.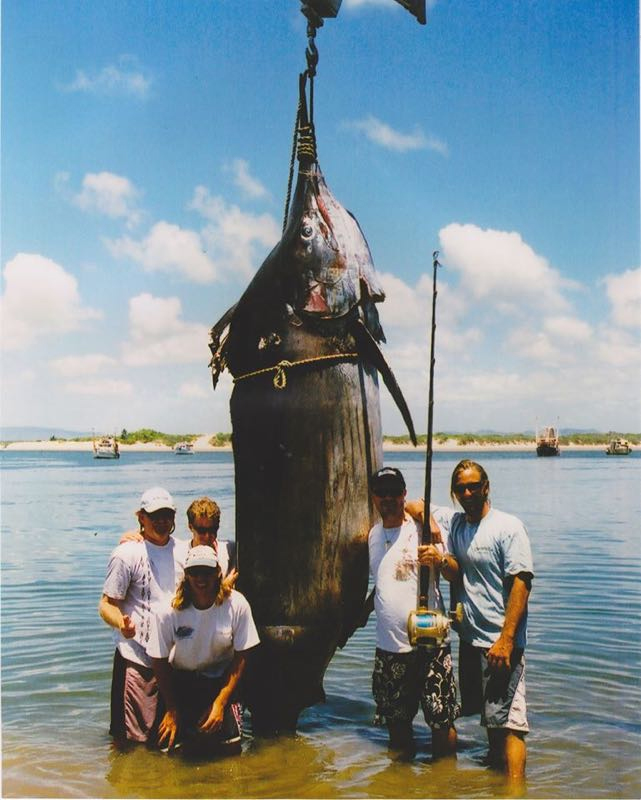 By Bill Billson
The 2001 Giant Black Marlin Season will go down as one to remember. In total there were 8 marlin weighed over the magical 1000lb mark and 4 of those 8 fish were over 1200lb with one very close to 1400lbs. Congratulations to the following anglers:
| | |
| --- | --- |
| Craig Caughlan | 1389LB |
| Adam Atkins | 1288LB |
| Norm Ennis | 1260LB |
| Jack Owens | 1256LB |
| Hugh Wiley | 1170LB |
| Max Warrick | 1070LB |
| Parke Berolzheimer | 1058LB |
| Steve Chicolo | 1025LB |
But more importantly there were over 30 very large fish released. Cairns leads the world for the release of large marlin and is pioneering the use of circle hooks and sonic tags to assist in the preservation of the species.
The Internationally renowned Lizard Island Black Marlin Classic, was run over 7 days, 21st to 27th October. No other tournament on the calendar can boast the results of this tournament since its inauguration, and the 2001 classic was no exception. New president Bob Lowe did an outstanding job in the organization and running of the Classic, and with the help of major sponsors the Caughlan family and Firth Insurance put together a tournament to remember. As always the tournament promotes tag and release and it has become a Captain's etiquette not to keep a fish under 1000Llb. The amazing highlight of the 2001 classic was the weighing of 3 fish over the magical 1000lb.