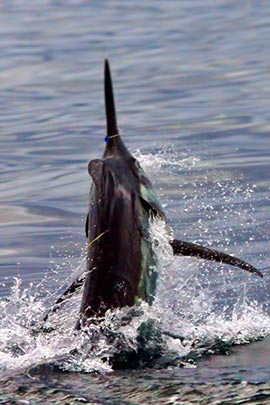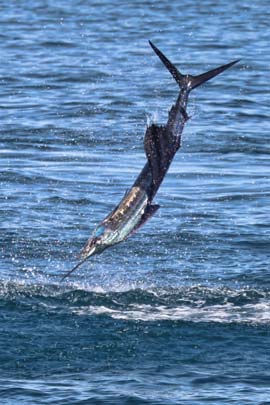 Photos and report courtesy of Jeff Cooper, President of the Broome Fishing Club:
The recent Kingswood Marine Broome Billfish Classic was held in what was has been described by all competitors as the most atrocious weather possible for the event. Howling wind, torrential rain, and freezing cold conditions 'blessed' the competitors–extremely unseasonal weather for Broome during this time of year. Despite the conditions, the 19 teams stuck it out for the six days of endurance event to finish with a total of 128 billfish tagged.
Interestingly the sailfish numbers were down about a third on last year, but marlin tagged numbers were about double. There were some big marlin in amongst them too with an estimated 180kg model giving 13 year old Bryce Marinis a run for his money on 10kg.
The final stats were:

Sailfish – 351 raised, 281 strikes, 170 hook ups, 105 tagged.
Marlin – 53 raised, 52 strikes, 33 hook ups, 23 tagged.
The winning team for the event was last year's runners-up Billistic who finished strong on the last day to take the lead from the rest of the fleet. The battle for Champion Angler was one of the hardest fought contests for years with three anglers all finishing on 4000 points. In the end, Matt Booth won the title on count back from Jason Bull and Rodney Sanders.  Champion Female went to Deb Whitcombe who once again asserted her dominance to take the title.
Despite the ordinary conditions the anglers and teams had a great time once again over the entire event and the presentation night provided great entertainment and was fun for all!