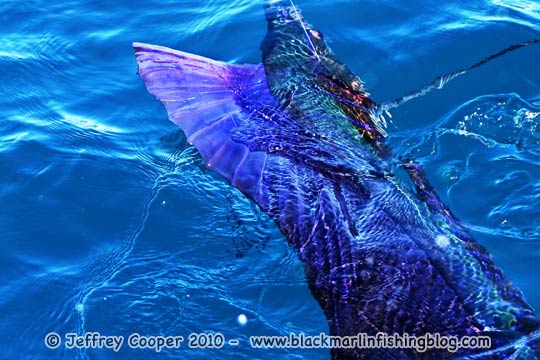 Thank goodness for the west! With no reports from either of tournaments held in NQ over the weekend come in yet, Broome has come to the rescue once again.
Jeff reports that things are heating up in Broome as they usually do at this time of year. Billistic caught 20 sails on Saturday, following on from 16 on Friday. Fish Broome Charters has also been in the action with a double digit day on Saturday.  Jeff went out Sunday with a bunch first timers managing to catch 8 from a progression of double hookups.  He found jigging for bait didn't work too well though as every time the jig hooked up on bait there would be a bunch of sails marauding it back up to the surface ;-)  (UPDATE: Billistic (Broome Fishing Charters) has released 62 sails in the last 6 days!)

In Townsville, Capt. Luke and I joined Capt. Deano's guests on Castille III on Sunday for donuts on the billfish front.  On Monday, Capt. Deano joined us on KEKOA and guests from the west got stuck into the mackerel, but apart from raising a lone sail, all was quiet on the billfish front again.  As it has been at Bowling Green in the past, you'll find nothing one day and then the next day there they are. So we'll just have to keep checking (and hoping) in the leadup to the tournament.