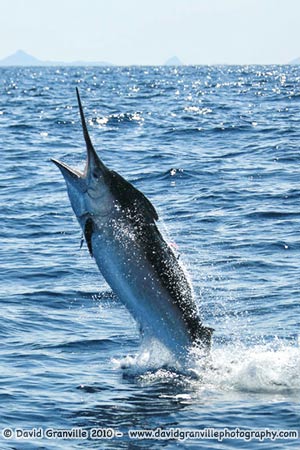 Mooloolaba: The 'model up' black marlin have already shown up on the Sunshine Coast.  On Monday, Outside Edge released three black marlin between 70 and 120kg. On Tuesday, Reel Capture release two blacks at 90 and 120kg both on 8kg and also jumped off 100kg stripe and saw a free jumping sail.
And Heath Irvine on Tanjian solo released an 80kg black.  Shaping up very nicely for the tournament at the end of the month.
David Granville took this great shot of one of Reel Captures' fish.
Townsville Tournament: Congratulations to the teams on board Sea Baby IV (over 8m) with 4 tags and Elektrakushen (under 8m) with 2 tags for their wins in the Townsville Mike Carney Toyota Billfish Challenge.  The presentation is tonight and so full results up tomorrow.

All indications are that the little black marlin have indeed bypassed much of North Queensland this year – only one marlin was tagged for the entire tournament, the rest being sails, and even more surprisingly, not a single billfish was tagged at Cape Bowling Green this week. Townsville club members are now gearing up for heavy tackle with more than one boat planning to hit Myrmidon Reef early next week.