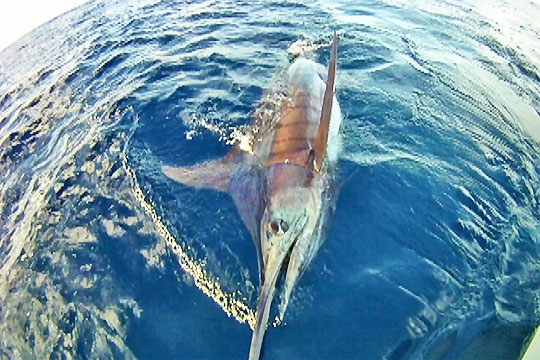 The Sunshine Coast GFC "No Frills" Heavy Tackle Weekend starts this Friday.  Fishing starts 5pm Friday and closes 5pm Sunday and weather permitting boats will be able to stay at sea to target broadbill. SCGFC's Brent Higgins tells me that Sunday saw quite a few boats fishing off Cape Moreton with a 5-10kt conditions although the fish were a little off their game with boats reporting bites being a little finicky. In all 8 blue marlin and one striped marlin were raised and 2 tagged. Reel Magic tagged a blue mid-afternoon and shortly followed by Brent himself releasing the first blue on his new Sea Hunt trailer boat Walk The Line that he estimated at 300lb. Congrats Brent!  (Still from the GoPro above.)
Likewise the few boats out on the Gold Coast enjoying the mild weather Sunday also saw some afternoon action on the blues while Murphy's Law got a spear.
A lot of the focus down south seems to have switched to the big bluefin tuna, but I hear marlin are still being caught off Sydney.  Shane reports one from three stripes on Blue illusion in 180 fathoms inside Browns Mountain. Any more reports to share?
Solitary Islands GFC's Rick O'Ferrell is back from a recent trip to Vanuatu where he participated in the Port Vila GFC Easter light tackle tournament.  Unfortunately they have had a slow season over there this year and despite a few blue marlin hookups (no chance on the 6kg tackle) the tournament was decided on wahoo.  But things might be starting to turn around as the temperatures have begun to ease in the last couple of week.  The day before Rick left, Nevagivup enjoyed a great afternoon going two from two on blues, two from two on sailfish, and a clutch of wahoo all in the space of a couple of hours. A great day! Rick says similar results are now starting to come in consistently from the other boats, so it looks like the season is finally starting to light up.
Rick also told me about another of the Port Vila club boats which hooked up an estimated 120kg blue marlin only to have it bust off and head out of sight with the lure and rig trailing from its mouth. About three hours later, another boat hooked up in the same spot, and when they got the fish to the boat, guess what they found?  The missing lure and leader all still firmly in the fish's mouth which was returned to the original owner later that day!  That's one for the books surely!
I'm happy to announce that Buoy Weather has come on board as sponsor of the Black Marlin Fishing Blog.  Check out the weather links in the sidebar or head to the Buoy Weather website now to sign up for your free premium membership trial. Buoy Weather is your one stop for fish finding weather tools.