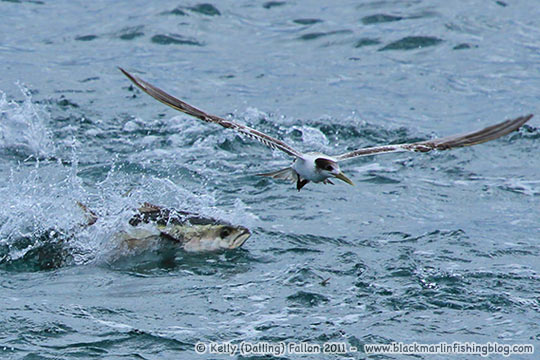 Weekend report including some re-capping from yesterday's newsletter:
Fishing off the Gold Coast, Mistress released a blue marlin they put at 120kg on Saturday and another blue about the 140kg mark and a spearfish on Sunday. Rodney says they also raised another blue when they were clearing the lines and that a trailerboat nearby also tagged a blue on Saturday while other boats also had shots.
The Newcastle Port Stephens GFC held their Northern Zone overnighter on the weekend.  Dave reports that one boat tagged an estimated 20kg broadbill which was caught on a live slimy (Brent says they also lost a much larger one after an intense 20minute battle) while Dave and the boys lost one as well.  The marlin have been a little more scarce although there were a couple of stripes reported.
James from Solitary Islands GFC tells me that the marlin fishing has been a little quiet off the Coffs Coast as well.  While the weekend weather played the game perfectly allowing plenty to fish both days over the weekend, the fish didn't return the favour in kind. A few reports came through of yellow fin in the 25-35kg range and Alcatraz fished the Sawtell Canyons and raised a small but lively blue which was missed before they had another chance with a larger fish taking the short rigger.  Unfortunately this one also threw the lure a short while into the fight – Blue Marlin 2, Alcatraz 0. Thanks James – better luck next time!
Elsewhere down south of the border (NSW), the attention has turned to the big tuna although they have largely absent thus far. Instead a few stripies made a show off Norah Head and Batemans Bay among others. And Capt. Ross Hunter's Broadbill released a stripe off Sydney on Thursday as well. In Tassie, the run of big bluefin is eagerly anticipated and while there were a few big fish caught earlier in the week at Eagle Hawk Nest – 104kg, 106kg, 143kg and others in the 80's and 90's – it slowed down again in the latter part.