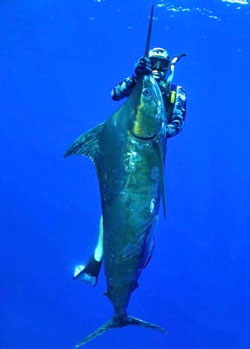 While the marlin remain quiet, some good spearfishing for southern bluefin tuna footage to enjoy.
Some of you with great long-term memories might remember when I last wrote about Brett back in May of 2007 when he had just completed a marlin slam by spear, being the first Aussie to do so (Remember?  No? Well you can read it again here.)
Well Brett has been out and about making some more significant spear catches, most recently with Capt. Ryan Capp on board the 40ft O'Brien Ultimate II off Bermagui.
He sent me a link to the footage that they uploaded yesterday – you can check it out here.
Brett calls the fabulously fish rich region of Coffs Harbour home but unfortunately, due to a stalled EAC, fishing hasn't been too red-hot there this month. Solitary Island's GFC boats are still plugging away when the weather allows and a few striped marlin have been raised. Rick's Foreign Exchange pulled a blue marlin out from under a few birds last weekend while Black and Blue picked up a nice 40kg yellowfin tuna.  The club has recently confirmed they will run their inaugural "Big Blue" marlin tournament again in early December. Stay tuned for more details – this tournament is sure to get a lot of interest especially with the $20,000 prize for a heaviest marlin!