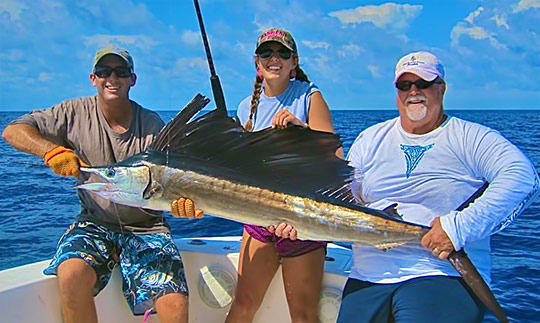 Hailey's photo of her twin sister Hutton's first sailfish!
First some international news today from regular Cairns crew Jarad "Dingo" Boshammer who lives the rest of the year in the US with his lovely wife Beth.  Dingo has been getting in plenty of practice for the season ahead fishing some of the tournament season in Hawaii before heading back to home to Florida again for two short months before he heads back to Australia.  Fishing out front of Jupiter Inlet in Danny Fords 25 ft centre console for dolphin fish, Terry Fohey's 16 year old twin daughters (Hailey and Hutton) each released their very first sailfish (and 60 dollies all up too!).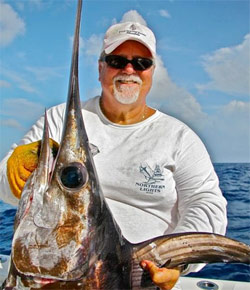 Following up on Day 3 of the trip, the girls stayed home while Dad Terry and Dingo headed 15 miles off shore to try help Terry Fohey catch the last billfish he needed to finish his billfish slam (every species around the world). Set up with 80lb braid, 10lb  lead weight, light sticks and mac tuna belly for bait, they hooked up on the first drop in 1700 ft of water. Soon after Terry boated a sword with a 48 inch short measurement to complete his world slam – an awesome feat.  Big congratulations to Terry (and Hailey and Hutton too!) and thanks to Dingo for the report!

—
Meanwhile, Broome FC has been hectically trying to keep up the live updates but great fishing is getting in the way!  Day 2's recap was missed however Day 3 was reported as 146 sails raised, 110 strikes, 85 hookups and 56 tags as well as 11 marlin raised, 7 strikes, 5 hook ups and 1 tagged.  Sounds like its hotting up!
—
And, more Aussies fishing overseas: The annual HIBT is once again underway out of Kona, and Aussie anglers are well representated.  Day 1 results were 16  blue marlin tags and 1 weighed as well as a stripe and short-nose spear each tagged and a yellowfin boated.  Looking forward to hearing how the rest of the tournament pans out!
—
Lastly, for those who aren't subscribers, the July newsletter went out last week and you can see it here.  I also have some exciting new features coming up over the next two months and subscribers will get the announcement first so if you would like to sign up for the monthly newsletter, you can do so in the sidebar on the rights.