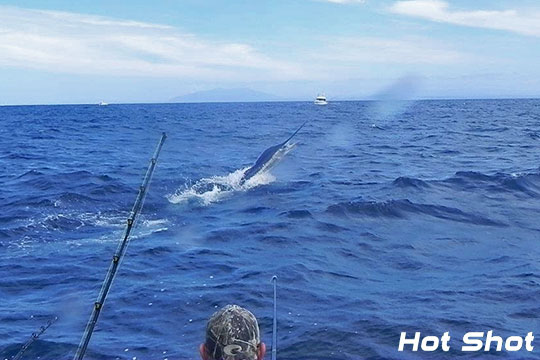 Tommy Wright in action on board Hot Shot.
63 boats competed over the three days of the tournament with good weather conditions prevailing as well as a solid run of fish.
As it had been pre-BluWater Classic during the Tollgates Tournament the weekend before, the best bite continued to north of the Tuross Canyons.  Overall there were 80 marlin tagged as well as 4 captured – the best capture a 132 kg blue marlin to Lee Duffield.
The most marlin tagged by a boat over 6.5m went to Mr Hooker with 9 fish. In second place was the team on Hot Shot with 8 fish.
The most marlin tagged by a boat under 6.5m went to Blue Yonder with 4 fish. The Heaviest Shark was a 184 kg tiger to Jason Sinclair. The Highest Point Scoring Male Angler was Paul Baker with 43,000 points. The Highest Point Scoring Female Angler was Belinda Hawke with 24000 points.
Junior Thomas Wright on Hot Shot scored 87,000 points to give him the Junior Award. The Runner Up Junior was Brock Lazaro with 77,500 points. The Small Fry prize went to Jackson Hatton with 10,000 points. Great to see the young anglers doing so well!!
Many boats are enjoying some great marlin fishing early in the season out of Bermagui – hopefully it continues!