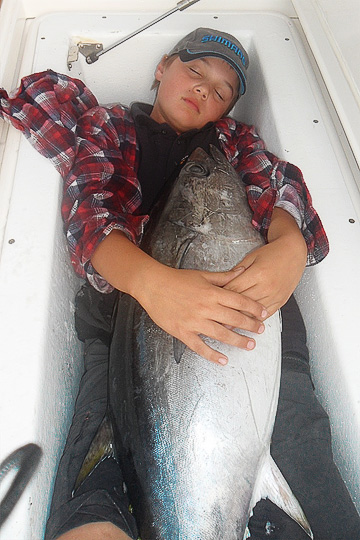 The Riviera Port Lincoln Tuna Classic 2012 was held Saturday 14th and Sunday 15th of April and while the tuna weren't as prolific as last year( when 459 qualifying fish–roughly the equivalent of 5000kg of bluefin tuna were released) the perfect weather conditions were enjoyed by all and there was great camaraderie amongst the fleet of 18 boats.
To 'qualify' the tuna must weigh/measure 10kg (78 cm) and this year the boats caught and released 114 fish with only a few fish separating the top Anglers and boats.
This year six female anglers competed for the Female Trophy which was won for the first time by Megan Tapely on Noble One with 9 releases. Meanwhile 4 very enthusiastic junior anglers also, including Baily Godwin (above) who found the whole thing rather exhausting.  The Junior Trophy was won for the second year in a row by Orion Downing on Sledgehammer with 5 fish.  Ralph Cyzabayski on Galaxy Star recorded the heavies fish weighing in at 14.1kgs, while Jason Stephenson on Shockwave took home the Champion Male Trophy with 6 fish.
Congratulations to the other winners including:
Champion Boat:             Noble One with Tim McDonald and his team with 20
Runner up Champion Boat:    Sledgehammer with Andrew Crilly and his team with 17
Champion Trailer Boat:        Shockwave with Richard Webb and his team with 10
The 2013 Tuna Classic will be held on the 6th and 7th of April 2013.  Thanks to Nina for the report!