NQ Light Tackle Season – Little Black Marlin
Townsville
Friday was the best of the weather days over the weekend and it was Capt. Dean Beech on Maverick making the most of it again fishing Cape Bowling Green off Townsville.  Deano kept a running score on FB and those of us stuck in the 'office' watching certainly wished we were elsewhere!  They finished the day with a 14-11-7.
Cairns
Off Cairns, Paul and his family on Think Big took a punt on the weather on Saturday and raised the one little black off Oyster Reef and boated 5 mackerel and a nice sized tuna.
This week once again Friday and Saturday look the pick of the days in both locations to get out amongst them. Paul tells me they're planning to spend some of the school holidays on the grounds between Cairns and Innisfail so I look forward to hearing how they go down there!
Gold Coast
After completing some work with the boat out of the water, Capt. Brett Alty's Mistress found some bait and warm water in 300 metres on Saturday.  They unfortunately pulled the hooks on a nice yellowfin next to the boat but successfully released a striped marlin soon after.
Bluefin Tuna at Bermagui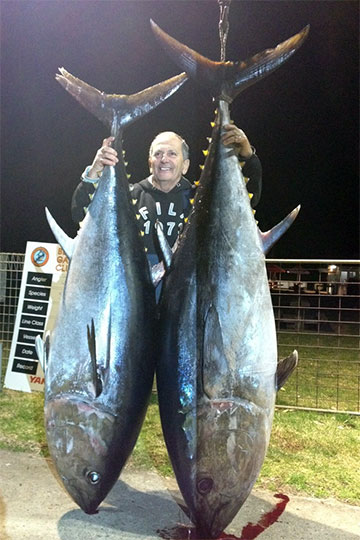 While the bluefin haven't been red hot at Bermagui this past week, there are still some big tubs being caught. The Ultimate's Capt. Ryan Capp sent me this photo of local private boat Irish Eyes with two beasts they caught that went 97 and 127kg respectively. That's a lot of sashimi!
Broome Sailfish

Jeff has risen to my challenge from last week's sked with an update in the run up to the Broome Billfish Classic from July 13. Jeff reports that the sailfish are around in good numbers at a spot known as the 'Western front' and also at the Peanut. Big marlin have also been encountered out west and have been creating havoc.  Look forward to hearing more – thanks Jeff!