Townsville
Townsville GFC Club boats accounted for 8 marlin tags and 4 tuna captures on the weekend with club VP Lew Haines' daughter Amanda one of the lucky catching her first marlin. While Saturday was the better day, the boats battled some heavy fog  that didn't lift and resulting poor visibility.  Sunday the strong wind warnings were back.
Even with the quieter weekend, the numbers are adding up. Already in July they have recorded 28 black marlin and 1 sailfish. Meanwhile June was an outstanding 84 black marlin and 3 sailfish (many more than were caught off Townsville during the entire [slow] 2011!)
A big thank you to Michelle for the information!
Big Bluefin Tuna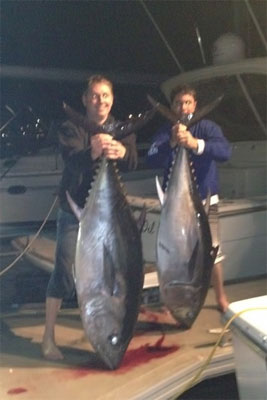 Just the one report from the weekend in so far.
Hayden and the boys fishing on The Outlaw from Port Hacking GFC caught these two bluefin below off Sydney, 8 miles east of Browns. Both fish were caught from three way hookups and these tubs weighed in at 68 and 75kg!
---