Dampier Classic
The Dampier Classic has been added to the tournament calendar and is coming up on Aug 3-6.  KBGFC President Steve Tatham tells me that its been very windy there for the last couple of months but the fishing, when they can get out, has been pretty HOT. Steve says that most boats have been getting 6 + marlin a day in the last week.
The sailfish season also started with a bang in April but has slowed with the cooler water now. Steve says that he got 23 sails in 4 trips with his son Jackson (who is only 9 years old) and 17 sails in one trip where he got 7!
Broome Billfish Classic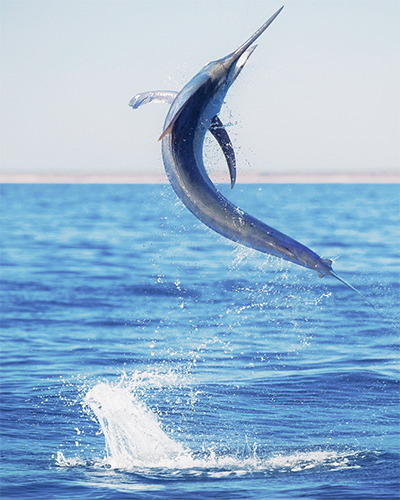 Jeff sent me this awesome shot of a jumping black during the Broome tournament this week taken by Deb Whitcombe on team 3XL.
If you're not following BMFB on Facebook or Twitter, you may have been missing the status updates from the action over at Broome.  Day 1-4 results have been posted with the action on the sails definitely heating up on Day 4.
(If you're very switched on, you'll notice I have moved these results from the previous post.)
Day 1:  Sailfish – 156 raised, 103 strikes,69 hookups and 38 tags. Marlin – 10 raised, 9 strikes, 3 hookups and 1 tag. The Day 1 Champion Team is Sailraider and the Runner Up – Excalibur with the Champion Angler Slim Money on Dog Fish.
Day 2: Sailfish 67 raised, 54 strikes, 43 hookups and 31 tags (38 tags on Day 1). Marlin – 12 raised, 9 strikes, 5 hookups and 2 tags. Champion team is Makaira on 4000pts and champion angler Joe Sutherland on 2000pts.
Day 3: Sailfish – 69 raised, 67 strikes, 49 hookups, 30 tags. Marlin- 8 raised, 8 strikes, 6 hookups, 4 tags. Champ Team – Game On with 16 fish 8000pts Champ Angler = Mick Smith with 3500pts.
Day 4: Sailfish = 186 raised, 142 strikes, 93 hooked and 67 tagged. Marlin=8, 8, 4, 2. Champ Team= The Shag 5500pts, Champ Angler = Christos 2500pts.