I hope everyone had a great Christmas break. Here are some brief reports from the last few days over the holidays that will be sure to get you packing the boat ASAP.
South East Queensland
Starting off on Christmas Eve, Jim and Ryan McKinnon on Galaxy II returned from two days at Cape Moreton tagging 10 from 15 little black marlin and converting some yellowfin tuna and wahoo as well.
On Boxing Day, Seekin' went 10-6-2 in the rain off Point Lookout.  Kurt reported that the water had dropped in temperature, but plenty of good bait in warmer side of the break.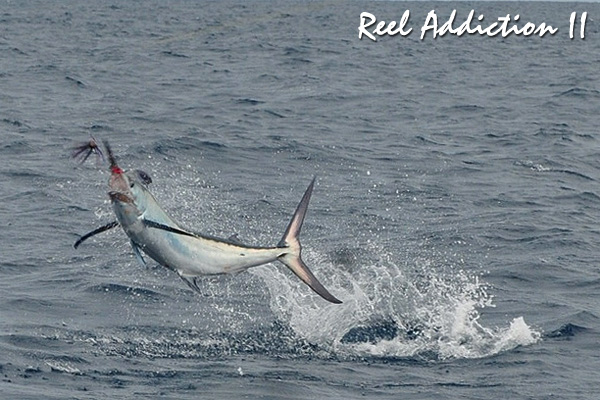 Nearby, also on Boxing Day, Reel Addiction II went 2 from 5. Alan Selcuk got the 1st one in the boat after a very acrobatic display. And just as they were sending the lines out to go again they raised a double converting the 2nd to Demet Yalcin. The boys also reported a 1 from 4 on Monday.
Up from the south to have a go, Port Stephens regular Andy Bagnall fished Point Lookout on Friday. Andy says it was a slow start to the morning with tailing marlin everywhere but no strikes. Then in the afternoon someone flicked the switch and they raised 9 and made the lures stick on 3. One was a nice baby marlin for first time angler Rob Frier on 10kg. And Andy got another on 8kg spin tackle.
On Saturday, Sunshine Coast GFC club boats Ymer released 8, while Fish Whisperer released 5.
And off the Gold Coast on Friday, Barco released 3 from 4 blue marlin in 27 degree water and a strong southerly current!
Into Northern New South Wales
Also on Friday, evidence that the blacks have penetrated well south of the border.  One boat off Hat Head (north of Port Macquarie) released 6 on Friday.  This bodes well for the Port Macquarie Golden Lure that begins on January 11.  Capt. Adam Jordan on Iona II taking the boat into Port Mac yesterday, in the leadup to the comp, also raised 6 blacks and 2 blue marlin.
Coffs Harbour GFC are also reporting a few off there as well.