Reports overnight are that the little black marlin have made it all the way to Port Stephens!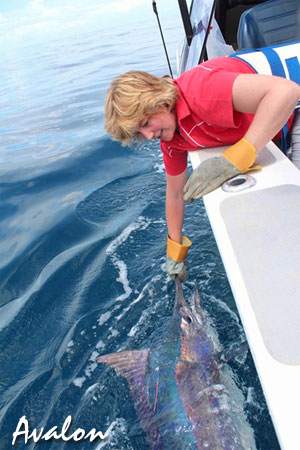 St. George SFC President Bruce Rayment has had his boat Avalon in Port Stephens this week and has success getting his wife and sons their first marlin each.  A picture of wife Belinda with hers beside the boat left.
Andy tells me that he has seen boats returning in with up to five tag flags flying. Its good to hear that its on down there now too!


Meanwhile back in South East Queensland (where there probably won't be much fishing this weekend, thanks to ex-Cyclone Oswawld, which is still heading south), Ross McCubbin was out on Wednesday and went 2-3 on blacks in the 25kg range – a first marlin for each of the boys. And more blue marlin about out wider: Capt. Ken Brown's Megumi with 1 from 2 on Wednesday off Point Lookout.  Ken says the fish was in the 250-300lb range and so was the one they jumped off.  Vince on Barco was likewise out on Thursday and covered a lot of water for 1 from 1.  Both were expecting a bit more action with the moon!