The Innisfail Tournament wrapped up yesterday adding another 11 billfish tags to bring the three day total amongst the fleet to 28 tags – as well as some spectacular other gamefish weighed including a pending State Record wahoo (45kg) for eventual tournament winners on board Rampage. 
More weekend light tackle reports outside the comp:  Off Cairns, Think Big  fished the same area Sunday and tagged another 3 blacks to bring their weekend tally to four.  Paul reports that the fish were all in the same size range (50lb) and Sunday's fish were accounted for by Sharon (2) and junior angler Adam (1).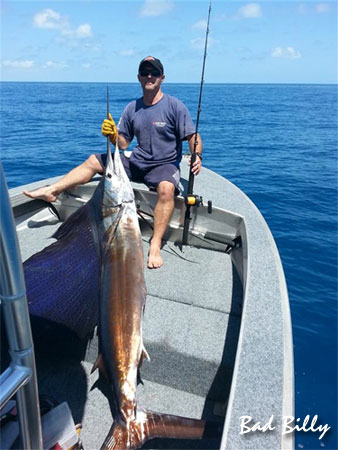 At Cape Bowling Green and Townsville it sounds like it was a quieter weekend on the water than expected on the billfish front. But many are thinking 'who cares' with the amazing weather continuing. John Sykes sent me this photo of Al McMahon's first sailfish on board Bad Billy.  John reports that despite a slow start on Saturday and a lack of bait on the grounds they managed to score Al's first billfish with this sail wide of Cape Bowling Green. The fish put on a spectacular aerial display. Al is understandably ecstatic with his first fish and after a few quick snaps, the fish was released to swim away strongly.
I also heard that a few of the Townsville Club Boats were out enjoying the calm including the Nicolosi family on Zuri (sailfish) and the mixed crew on Reel Crazy also accounted for two tags – a marlin and a sailf. The sail was a first billfish for angler Sam Hoskins. Midnight tagged the only billfish on Sunday which was another nice sailfish. (Update with thanks to Renee!)
Aussies Fishing Abroad
A group of regular blog readers has just returned from a Kuala Rompin' sailfishing adventure and Dave sent me a wrap up of their fishing over the four days.  With the crew made up of Dave Tucker, Garry Chenoweth, Anthony Dimech and Mick Binbcent, who were fishing with Ocean Blue fishing adventures, they released 22 sailfish from countless bites. Dave said he recommends all to put this fishing location on your fishing bucket list!
One of the photos from the trip below with very happy Dave holding one of his sails: