Big fish around again yesterday though from the reports filtering through it was a quieter day overall with many 'seeing but not catching'.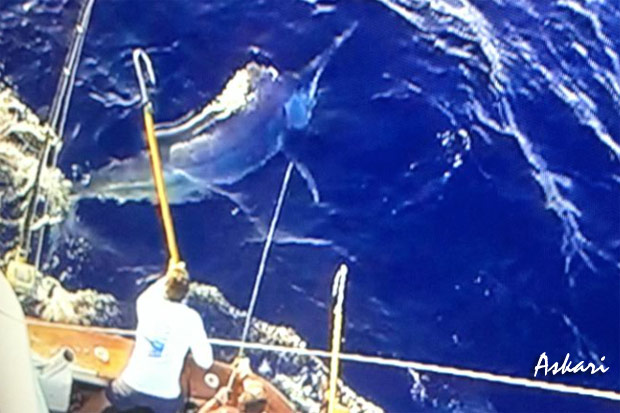 One of those catching was the team on Capt. Corey Hard's Askari who hooked up to the fish they wanted to keep yesterday. They had her to the boat in under 8 minutes but unfortunately couldn't keep her there. Corey said that this was most definitely one of the biggest fish he's seen and he'll take the memory of it with him for the rest of his days – but luckily they have some great footage too like this one above which is a still from the video. The fish broke off on leader on second attempt of boarding. Another late bite fish and great way to end the day!
Also seeing and catching, on KEKOA, we had the big fish follow early in the day for no joy, but the big fish bite at the end, capping Art's day off with a big smile releasing a fish that Capt. Luke Fallon put at 900lbs just at sun down.  The classic blue tube bite with just 10 minutes to lines in. What a way to end the day (photo below).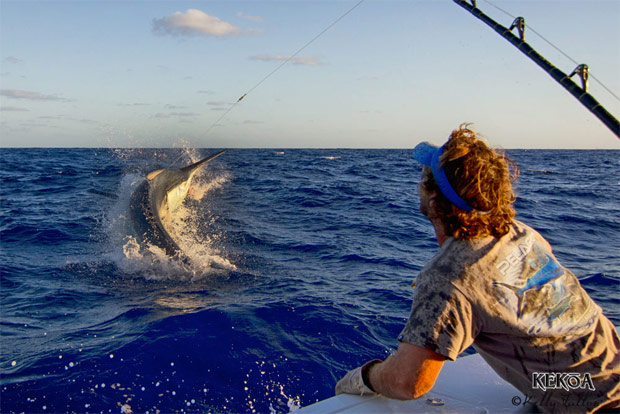 Capt. Tim Richardson on Tradition is out with a new guest on board – Helmut from Austria. Helmut put two on the score board on his day 1 with one end of the scale at just 80lbs, as well as good 400lb-er in the Middle.
As many of you already know, Little Audrey's season has come to an early end due to 'engine issues' but the good news is that their guests booked for the rest of the season have been found new vessels and will still get to enjoy their Australian experience. Capt. Daniel Carlson says that despite the early end, they had an epic season with 25 marlin in 3 weeks of fishing and they are looking forward to many new and return guests joining them on the reef next year.