Splitting the weekend report into more manageable parts – first reports from the Sunshine Coast and Townsville.
Sunshine Coast Sails
The weekend started early for some with Clayton Black among those on the water with billfishing newcomer Martin Menzes who got onto his first ever sailfish at the 18 mile on Martin's boat Seaduction. Fishing nearby Clayton also saw Noel Jones's Kajiki (with a fair bit of gamefishing experience/overkill on board in the form of Jonesy, Jonesy and Forbsey! ;-) go 3 from 3 with 2 sails and a micro black.
Meanwhile, in a dual for the SCGFC Champion Boat for 2013/14, Catapult and Misty went head to head. Sunshine Coast GFC Club Captain Brent Higgins tells me that Misty pinched a very late lead on Friday with 2 tags and Catapult were quite unlucky missing 2 sailfish (1 Friday and another Saturday including one on the leader while preparing to tag). Micheal Lasson on Jim Bob kept his consistency with 2 sailfish on Saturday as well.
With the weather forecast to come down during tomorrow, Brent predicts there's a chance for the first billfish of the season trophy to go off as early as Tuesday which would of course be a fantastic way to start the 2014/15 season!
Townsville Little Black Marlin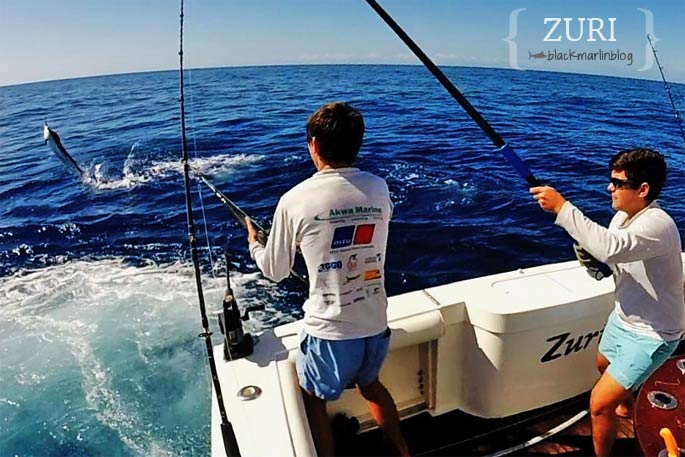 Since last weekend's little black marlin mania, club boats have been eagerly awaiting another go. Jack reports that Reel Crazy backed up with another three on days mid-week and added another 1-1-1 on Saturday.  The Nicolosi's Zuri likewise backed up the weekend with a 3-3-1, finding weed on the water causing conversion problems.  They also added another unusual species (or species not seen at BG for a while) in the form of a cobia.  Nelson Tilley (in the barra boat!) put in a bit of time going 5-3-1, tagging one of a double header.
Jack says there is still plenty of bait and it seems like the fish are starting spread out over the grounds with boats fishing north and south successful.  The fish are still that 10-12kg range with a few 15-20kg models starting to appear.
Photo above from Jack from on board Zuri. Thanks Jack for the photo and report!