Late last week and the early weekend gave anglers another weather window for the juvenile black marlin although the wind and rain have come through again now for the upcoming week — which unfortunately will keep most in Port. Read on below for all the details from Cairns and Townsville.
---
Quick BMFB News

The Innisfail Billfish Tournament has been added to the calendar (19-21 September, 2014). Download the brochure here or contact for enquiries…

The 50th Anniversary Tournament has been added to the calendar for 2016 (Save the Date!) There's been some confusion about the date so please note that it's still two years away (no, not next year)! We're just getting in early because it's expected to be a huge event.

By popular demand, the Black Marlin Blog marlin print is now available on duvet / doona covers in slate blue.  Check out all the specs or buy them online here.
---
Cairns Little Blacks and Sails
Bounty Hunter's Capt. Darren "Biggles" Haydon reported another 4 black marlin fishing on Friday while Lloyd Binutti on his new boat Reel Obsession provided the photos above from his day out on Friday as well. Lloyd says that the final tally for the day was 5-4-2 with the first bite coming just 10 minutes after the baits hit the water.
And Think Big's Sharon and Paul Poulter were out two up and managed their first black of the season (on their first trip out of the season) on Saturday on the 6kg gear for Sharon. Paul says he was brought out of the water briefly to remove the hook before being released. They were out again Sunday but only caught mack tuna:-(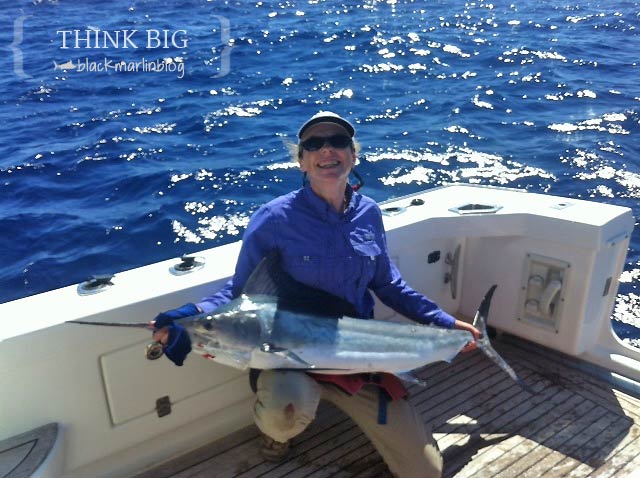 Townsville Blacks and Blues?
Allan Craperi family is wasting no time in taking advantage of Townsville's light tackle (reminder: the Tackleworld Townsville destination guide is here) in his new boat.
Allan Craperi put together this video of a day out on his as yet unnamed 239fs Key West centre console (Allan says there are only three of them in the country but they look like a great little boat for it!) Alan says that was only the second trip marlin fishing and I could not be happier with the boat.

Bowling Green Marlin from Allan Craperi on Vimeo.
Blue Marlin: John McConkey (Maximus) tells me they hooked a decent blue Friday on the kinks well wide of Myrmidon Reef. While they lost the fish, John says they got a real good look at it before it went deep and he'd put it at an easy 500+. It ate a large Spaniard skip bait. It was exactly this time last year on the same neap tide they released one in the same spot which should be enough to send the local clubbies out there on a more regular basis in good weather ;-)
And lastly, SCGFC Club Captain Brent Higgins tells me Jay Graham's Chaos is now edging closer to getting to its new home of the Sunshine Coast. They were in Abel Point Saturday getting ready to push on south and tagged 2 sails and a black off Hook Island on Friday on the way through.