Well Spring has officially sprung and so it's time for the little blacks to give their last few weeks hurrah before we turn our attention to the big fish.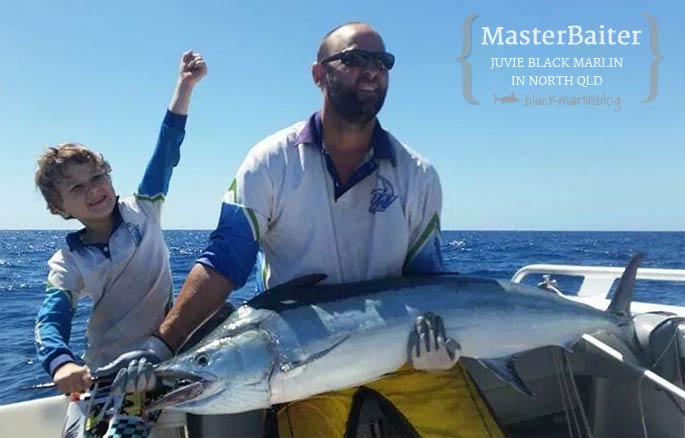 In Cairns, after watching older brother Jet shine during the recent Cairns Bluewater Billfish Tournament, 6 year old Koda was chomping at the bit to have his go on a black marlin.  Jay tells me that that mission was accomplished yesterday with the 6 year old catching his first (pictured) in pretty short time. After jumping one off only 5 minutes after start fishing he was onto another about half an hour later.  This time both Koda and the fish did everything right.
They followed up with another first marlin for Cairns estuary guide Brendan Curry – giving the guide a chance to be on the rod for a change! They ended the 3 and a half hour session with a 5-3-2.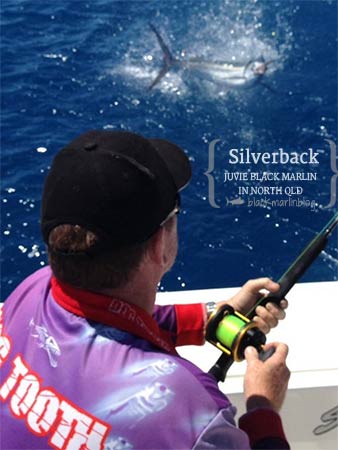 Meanwhile off Townsville, who do you think I found in this picture from Sunday on Silverback? I must admit to surprise, as not knowing that they let Goughy on the rod, but obviously as this photo shows, he is the star of the show (not the fish) ;-)
It was a quieter week on the water off Bowling Green last week with only a few fish reported. With Townsville definitely fairing the better for the weather than Cairns over the last few days (and I hear the same 'lull' was experienced off Cairns – cold water!) the good weather seems to be warming things up with several more fish and encounters reported over the past couple of days.  Boats are out for their last chance to pre-fish for the Mike Carney Toyota Billfish Challenge which starts (fishing) on Friday.
Chapel returned to port last night with three tag flags flying for their two days on the water while the boys undertaking the juvenile black marlin sat tagging project also released two yesterday (smaller than the desirable size for the juvies, so not sat tagged). John McConky's Maximus also reported several encounters with rubber hook syndrome (and some patches of warmer water!)
Several more are out today so we look forward to hearing how they go.