Well it was just a matter of time until the first report came through which I heard yesterday, with Capt. Darren "Biggles" Haydon on Bounty Hunter reporting the first big black of the 2014 Cairns black marlin season – a 550lb-er released at Linden Bank.
Biggs has been fishing US couple Dick and June for the past four days and spent the first two days light tackle fishing and mixing it up with heavy tackle on the last two days.  June, who has fished allover the world was seeking a black marlin to complete her Royal Billfish Slam (all 9 species of billfish), a task she achieved straight up on Saturday with one from one on the juvie fish.  Congratulations June!
On Sunday they followed up with another 3 from 4 on the little guys before switching their attention to the larger models. While Monday was a slow day, Tuesday delivered in the form of a 550lb-er. They also raised one about 300lbs that wouldn't eat. Bigg reports that the Bank is looking good – the water is good and while there wasn't a lot of bird life or bust ups they also accounted for some yellowfin and a nice wahoo while on the edge.  Great news as more of the fleet put their first 'lines in' for the heavy tackle over the coming weeks!
Also fishing off Cairns yesterday, Capt. Damian Colette's Saltaire. Damien reports two from two on the small (but not so small!) models within 50 meters of the edge of an inshore reef yesterday using 10kg line. Photo at top of one of the fish – top fish on 10kg!
And a reminder from Yorkey's Knob GFC that their reschedules (due to weather) Light Tackle Billfish Slam is coming up on 26th through to the 28th of September.  The event is in the calendar and you can download the entry form and brochure here.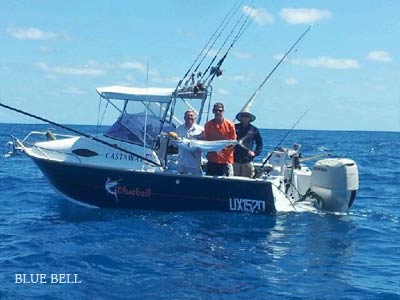 I also had some pics from Dax Linden who missed the Townsville comp due to work committments but joined the tourney fleet on Saturday with Roy, Scott and Dax heading out in Roy's boat Blue Bell.  Hitting the Northern Grounds, it wasn't long after setting the spread before a few tuna hit the deck. After a slow morning by most in the area we finally heard the shot gun scream off and after a few winds a Black Marlin off around 20kg jumped and hit the surface. Once landed and after a quick photo, it was released to fight another day.