Not too many reports from yesterday when the bite may have shut down a bit, but those I heard of were big fish!
Capt. Kim Andersen on Duyfken has done the big trip up to Number 10 and was yesterday heading south again.  But the miles paid off for guests Jake and Darren Wright with fish that Capt. Kim put at over 1000lbs for each – 1000lbs+ for Jake and a bit bigger for Darren – aptly on Andersen Reef.
And Capt. Dean Beech on Onsite also heading south got an nice one too at 900lbs to put his father and son anglers a 950, 800 and 900 for their trip!
I also heard that in the Middle Capt. Daniel McCarthy on Moana III got two at 800 and 400lbs – and that was all I have for the day. And at the top, Capt. Tom Francis' Ultimate Lady released a small one early in the day.
Some catch ups:
Its been since mid-October that I've heard from the team on Mauna Kea but I got a quick catch up report from Lochie on deck for Capt. Brent James this morning as they have been enjoying the fishing as much as the rest of the fleet. Lochie says that in the last two trips since they have recorded 10 fish on the first trip up to 850lbs and another four on the second to 900. A couple of action pics below.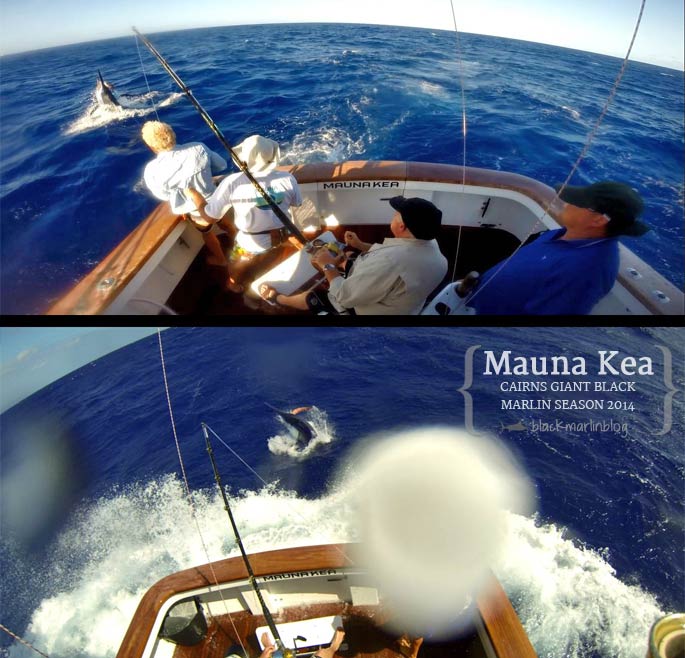 And last but not least, some great recent catch up pics from Capt. Tom Francis of Capt. Ross Finlayson's Top Shot, Capt. Tim Richardson's Tradition and from the Ultimate Lady herself.