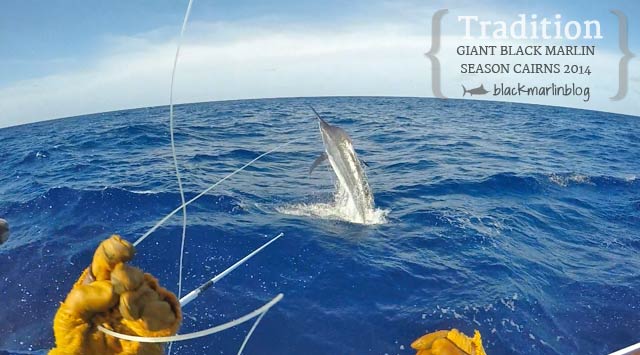 Reporting from the top, Capt. Tim Richardson on Tradition headed back out for the first day of a new trip with regular client Stephan back for a 10 day stint on the reef and releasing a nice one to get things off to a good start that Capt. Tim put at 850lbs (photo).  Nearby Capt. Bobby Jones' Iceman and Capt. Luke Fallon's KEKOA both released smaller fish.
In the middle, I heard that Kamikaze and Shaka also released little fish each while right down the bottom on the Bank, Capt. Brett Goetze's Amokura released two including a 500lb-er and a smaller fish on what seemed to be a quieter day over all.
And a catch up report from another Whitsunday's boat Topless who are spending some time over the next month on the Ribbons and released a small one about 150lbs on Number 2 on Monday.
Capt. Kim Andersen's Duyfken is back out after a day in Port today and wants to remind that he has 24-26 November open.  If you're interested, contact Kim via the website!
From Central Queensland – Bite Me Charter's Scott "Puddles" Coulter tells me that there have been quite a few more little blacks around.  While doing a shoot for Channel 7 Rockhampton, they released a 30-35kg black and a couple of long tail.  On Saturday, he put Briny and Shelly onto their first game fish a few dollies and a black marlin around 20-25 kg. Scotty also tells me that another boat released an est 100kg black at Swains Reef on Wednesday and that Jeff from Tackleworld Rockhampton got one yesterday morning around Outer Rock where a privet boat got 1 in the same area on Sunday.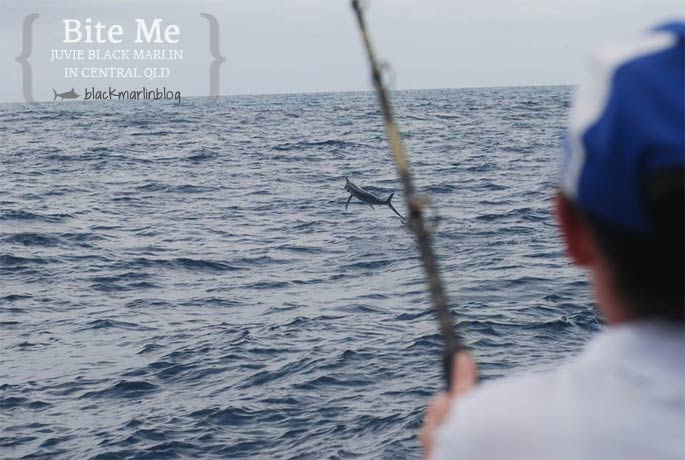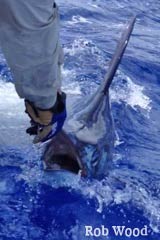 And more from Fraser (tourney report is coming!) – Rob Wood tells me he had a great weekend fishing the HBGFC tournament and that the blues were going off. They had two double hook ups on blues. The first they landed both fish around the 130 kg mark the second they dropped one but landed one about 170kg (the missed was a fish about 100kg).
On Day 2 they headed down to the canyons off Waddy point and hooked a good fish around about 250 kg and later in the day hooked a smaller one about eighty kilos. Rob says that the blues seemed to be more concentrated around the northern end of the spit from the light ship down all the way along.
On Day 3 they fished from 7.00 am to 1.30 pm and had eight bites one double hook up and landed one fish. The bait was in deep around the 200m mark, and while some fish were concentrated in the 200m mark, they also caught some fish in 400m. Many first time heavy tackle anglers hooked their first blues during the tournament and Rob says this has been the best blue bite he has seen in ten years – plus the weather was great! Hopefully they all move south for a bumper year at Cape Moreton and the Goldy.
Rob also says that the light tackle side of the comp was okay but you can't go past the heavy tackle;-) They did catch one small black off the lighthouse at Sandy Cape just on dark on the way back to the mother ship and had another on the teaser while waiting for fuel at Rooneys Point on Friday night.
Rob says if you're a keen blue marlin fisherman head to Fraser Island now!