A busy weekend of tournaments, but far too early for reports so those will come later. In the meantime, it was a very successful and enjoyable long weekend on the water for Australia's national holiday and first long weekend of the year. Three days of fishing fun and the marlin presented themselves all the way along the coast.
Read on for reports from the Gold Coast, Coffs Harbour, Port Macquarie and Sydney.
Gold Coast
On the Gold Coast, as if it were ever in doubt, but Capt. Ross McCubbin added his 100th marlin of the summer season yesterday on board Lucky Strike, quite fittingly on Australia Day.  Hitting 99 the day before (Sunday) with 4 for the day, he well and truly hit the mark yesterday making no mistakes by adding another 6 from 6. The final fish lucky number 105!
Anglers David and Adrian Wright were treated to some great fishing with a total of 10 from 12 blacks for their two days of fishing.
I heard that there were plenty more among the Gold Coast fleet getting in on the action. Representing the small boats in his 20ft centre console Ocean Instinct, Glanville Heydenrich also had some great holiday weekend fishing. He got off to a good start on Sunday a first fish straight up successfully released.  Then they got waylaid for 2hrs on a beast on 8kg that was eventually lost due to something swimming into the line. But finished the day with 5 from 6. Glanville says they were pretty quality fish too at 10 (yes a rat!), 80, 60, 80, 70kg before finishing up at 2pm.
Yesterday he followed up with an Australia Day that we should all be envious of.  Some spanner crab pots out first thing on the way out, started marlin fishing at 8am, 3 from 4 by 10:30 and in and pulled the pots by 12:30 in time for big afternoon BBQ!
And likewise for Michael Umback on the water on Sunday with a 4-4-3 black marlin estimated at 60kg, 80kg and a bigger one that Michael said would be pushing 300lb!
Coffs Coast
Luke Azzopardi who is crew on deck with Capt. Rob Lang on Black n Blue have been having some good tourney fishing of late but enjoyed a fun day out on Saturday with just the two of them on board and a final tally of 8-4-4 – 2 little blacks and 2 sailfish tagged (the other 4 bites bites didn't hook up and they also had another 2 in the spread without biting!) Luke said that the sails were a double hookup which was interesting with just the two of them on board and Rob showed some handing one handed tagging to keep both fish point scoring legal! (And they got photos too!)
Luke said they headed out again yesterday hoping for another fish or two but the current had moved in and they didn't see a fish. That's fishing!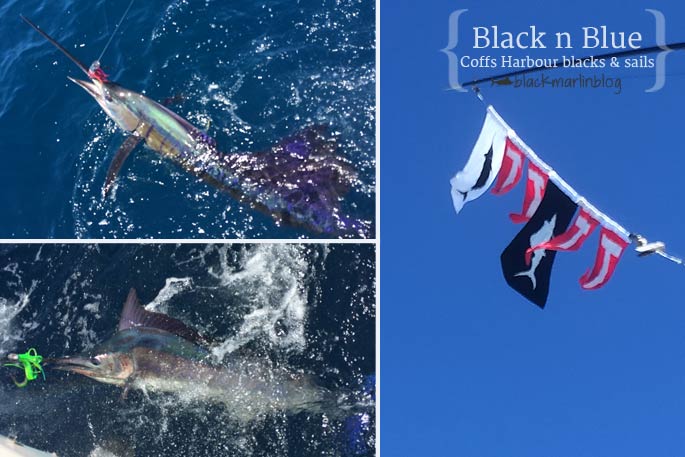 Port Macquarie
And another big report from Scott Baker from Rush Hour who fished yesterday out of Port Mac and went 12-10-6 on black marlin after starting the day targeting Spanish. Scotty said that after losing 3 blacks on the mackerel gear they switched over and ended the day with the 6 tags.
Looks quite a bit fresh!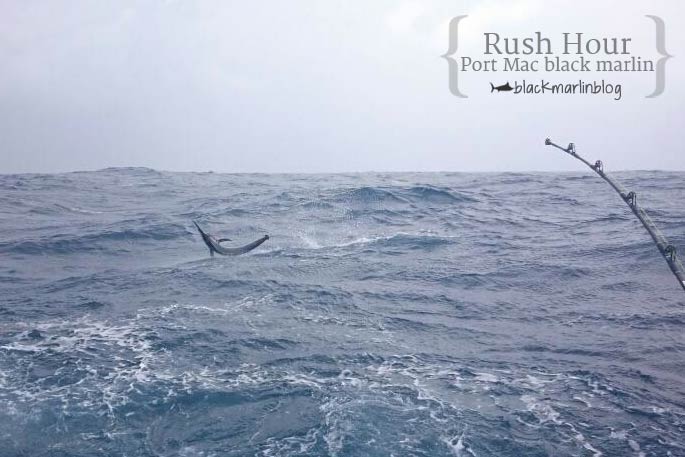 Sydney – Broken Bay GFC
Broken Bay GFC club boat Murrifin's Rod Findlay tells me that Sydney fishers have likewise not been missing out on the southern migration of the 'little' black marlin (or stripes!) or the bull dollies either for that matter!  A top Australia day on board Murrifin for Rod and crew as well going 4-4-3 with a 70kg striped marlin on 15, a 50kg striped on 10 and 50kg black on 10 as well.  This followed up from Rod on Tuesday with a 2-2-2 of a black and a striped in a half day and the nice dolphin fish above all only 10 miles off Barrenjoey!