It was another win for the World Offshore Championships last week with yet another tournament billfish record beaten for the second year running.
Day 2's fishing results set a new single day tournament record of 942 with 940 sailfish, 1 black marlin and 1 striped marlin being released.  Last year the 2014 event beat the the world record of tournament billfish releases with 2,314 (mostly sails) released in just three days of fishing.
Overall, 2840 billfish were released for the event this year among 67 teams and 317 anglers.
Australia was represented by five teams.  The WA team representing the  35th Annual Blue Marlin Classic were the top placed Aussie team in 26th place with a total of 47 billfish in 4 days.  Next were the Sunshine Coast team representing the Sunshine Coast Classic in 29th place (photo from Lachlan Tuckwell of one of their double hookups).  And the Cairns BlueWater Billfish Tournament team (team Bounty Hunter) had a fantastic Day 4 which saw them in 3rd place on countback for the day, to put them in 55th place overall with 32 tags and lastly, another WA team representing the Shimano West Australian open took 56th place with 30 tags.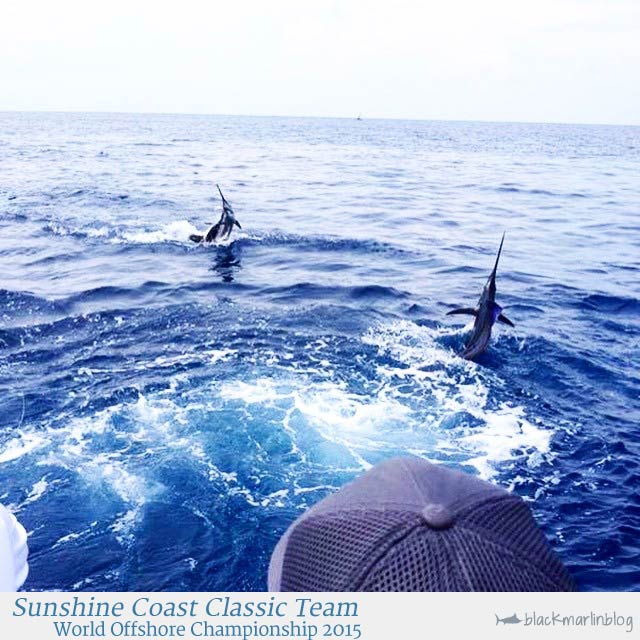 Closer to home, the weather postponed Sydney GFC Peter Goadby Classic was held over the weekend – results to come. A significant capture on Day 1 went to Alex Nuttall fishing on Syndey GFC's Tantrum and weighed a pending Australian Women's Record blue marlin at 236.3kg (520lb) on 15kg (30lb).  Congrats and well done Alex and the rest of the team!