It's funny how these little fish like the calm (or at least the boats do!)
Following up from his weekend at the tournament another report from Peter "Mutta" Mammino who went 2-2-2 fishing yesterday afternoon. On fire!
UPDATE: Just in from Capt. Mark Parkinson's Black Label who went 4 from 7 on Monday (Cairns).  Will share some of Mark's pics in the report tomorrow or you can check out the first on Instagram. Mark said that they missed a couple not wanting to bite, just teasing them. So great to hear of more around!
And some catch up reports from the weekend and Monday: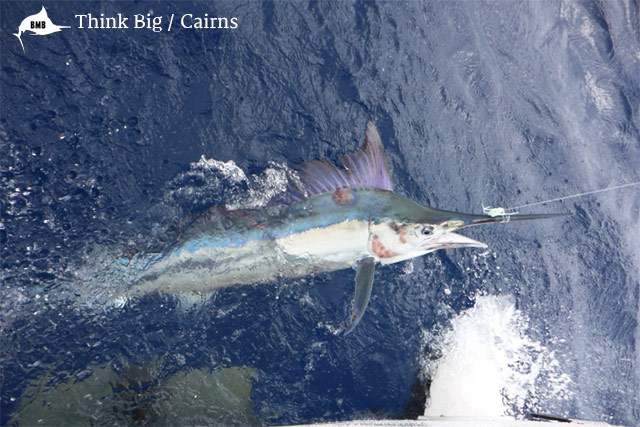 Cairns
Paul and Sharon Poulter have kicked off their 2015 season over the weekend on Think Big with two black marlin and a sail.   After a lazy 11 am start on Saturday, they were on straight away while Paul was still setting the shotgun – taken by a nice little black of around 10kg for Paul. About an hour later, they tagged a second for Sharon, this one a bit bigger at around 15kg. No more billfish for the day but they did add 3 Spanish mackerel and a tuna.
Sunday started quiet and the only fish they saw in the first 3 hours of fishing was a mack tuna, but a double header of sails soon after caused a little chaos with only the two on board.  Unfortunately one jumped off while Paul was clearing the last of the other lines but Sharon's sail was successfully tagged 15 minutes later.  Photos from Paul and Sharon's weekend above and below.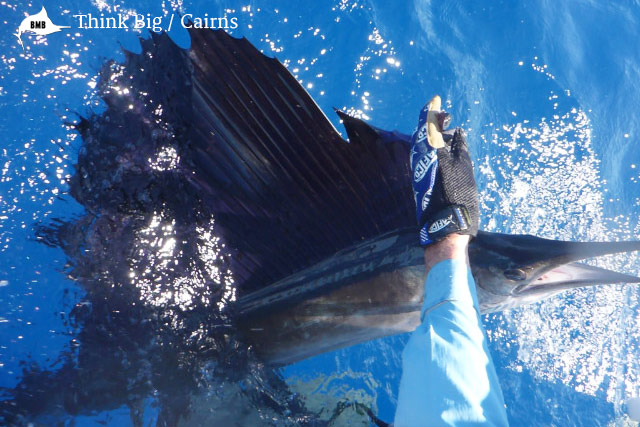 I was chatting to Capt. Chris "Sharky" Miles who is currently enjoying a few calm days on the reef on Levante with the reefies and mackeral and he tells me that they also caught a marlin on a halco on a bottom fishing charter on Sunday.
Meanwhile Down Under Fishing Supplies' Tim Wenger was out with Tiger and Billy on Tiger's boat Blood Moon.  Tim says that the mackerel were quiet for them but they caught 2 little blacks on lures between Eastern patches and 11 fathom patch. Tim also says that most of the bait they found was very inshore, in fact they saw one marlin feeding on bait just 200m from the Fitzroy anchorage!
Townsville
Showing that the 'experienced' have lost nothing (!), Capt. Dave Pemberton joined Pete and Val O'Brien for the day on Sunday out on OB1 with Dave driving, Pete on deck and Val angler extraordinaire.  They went two from two on what Pete called 'very small' sails for Val.
I also saw that Gary Powis added another sail to his boat tally on Sunday (plenty of sails around!) as well.