Update: I added some photos from the Yorkey's Knob Light Tackle Slam/AIBT presentation in the post below as well as a quick report from the Poulter's on Think Big who fished the tournament and then followed up on Sunday with a 5-3-2!
Townsville Billfish Challenge
I'll have to keep the results relatively short because there is so much for today's blog report (also because I may have crashed and burned before the actual presentation of trophies kicked off :-) ) but here are the final day's fishing and results.
On the shorter day 4, it was tournament leaders Cool Change who were first on the board with a sail just after 8am, but overall a very quiet day. The sail put them on 5 tags for the comp and overall winners. A big congrats to the whole Cool Change team!  While we're speaking about Cool Change, a bit of a cool story with a sail they recaptured during competition fishing turning out to be one that they had tagged themselves a few weeks previously in pre-tournament fishing! I'm not too sure if this falls within the tournament rules or not but we suspect tethering here ;-)
Only 3 more sails followed for the tournament fleet including the final fish of the comp to runners up Emma Kate to cement their second placing, with 4 tags, from the bulk of the big boat fleet on two tags a piece.
In the Under 8m category, Annie B also tagged a sail to give them to the runner's up  team award on count back position from the winners on Trophy.
On board Emma Kate, young Matty Colborne took the Champion Junior Angler gong with his teammate and uncle Chris Davis taking out Champion Male. Champion Female went to Tamara Dawson on Annie B. And there were a whole host of first and final billfish awards as well.  Congrats to all the winners and grinners!
(As always these are my results and not official – if you find any errors, please let me know!)
We were talking on the way in yesterday ourselves about the fishing and how quiet it was this year – especially with few marlin caught both during the comp and in the leadup – so thank goodness for the sails. While I don't have the stats from last year as I didn't do a final tally for whatever reason (although 2014 was also a bit slower too), comparing 2013 (90+ billfish mostly black marlin) to 2015 (30 billfish, only 7 or 8 of which were blacks) and you can get the idea.
We saw similar in Cairns with Fitzroy 2014/2015 with approximately half the number of fish caught this year versus last. But for whatever reason, it sounds like the fish did show up off Fitzroy again yesterday. Capt. Chris "Sharky" Miles on Levante has been fishing the swish swish with Amanda Thompson on board and they had 5 bites yesterday alone!
Yorkey's Knob Light Tackle Slam/AIBT
It was a better showing for the final day of the AIBT with 10 tags as follows:
Wild Turkey 08.00 marlin, Entourage 09.33 marlin, Master Baiter 10.08 marlin, Entourage 10.10 marlin, Seaduca 10.37 marlin, Savella 11.05 marlin, Ka'ching 11.15 marlin to unregistered angler, Seaduca 11.51 marlin, Master Baiter 12.34 marlin, Seaduca 15.36 marlin to take the lead position from Wild Turkey.
Preliminary results:
Seaduca wins with 4 tags
Wild Turkey runner up with 3
Champion angler Sue Crocker with 3
Huge thank you to Paul Poulter / Think Big for the updates!
Outside the comp and also on the little fish, I also had an update from Capt. Mark Parkinson's Black Label who went 2-2-2, one of which was a good solid light tackle fish on 10kg for angler Ricky Chow from Hong Kong (picture).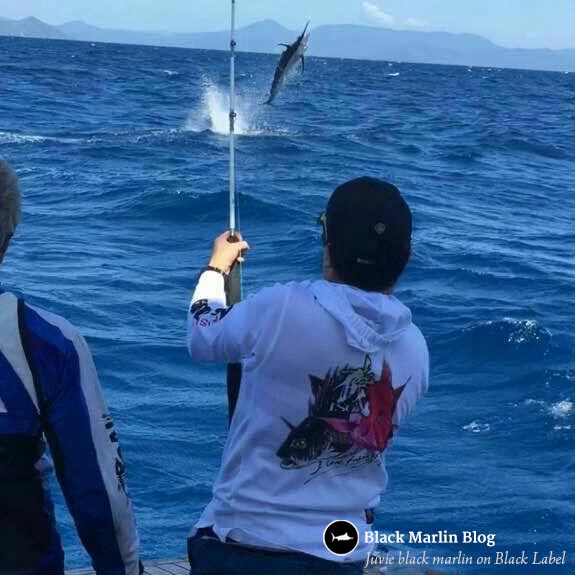 Weipa Billfish
In the leadup to the Weipa Billfish Club's tournament in October, it;s good to hear reports of fish showing up there too. Yesterday the club reported 5 sails and 1 black marlin for the day with the five sails accounted for on Wine Down (Darryl French and Gaven Roberts with one sail each and young Emmi Roberts (9 yrs) with 3!). Darren Lee also caught an 8kg black on Tag Team.
This follows up from Friday in what we believe is a first (? anyone?) with a black marlin solo for a female angler and keen Weipa local Tegan Witcher who released a juvie black in the 10-15kg range. Ben "Notso" Bright sent me the good news which is a huge achievement especially considering Tegan is still pretty new to the sport. She caught her first sails with Ben two years ago and has been getting into it more and more especially since buying a boat last year. Well done Tegan – awesome effort!
And Cairns Big Marlin Season
And we are off!! Still very early but after enjoying a great week on the upper Ribbons Reefs with fine weather and bottom fishing with Scotty Baker and the boys from Port Macquarie onboard, Capt. Adam Jordan's Iona 2 kicked off their heavy tackle season yesterday with a fish they put at about 500lbs for angler Graeme. Photo at top.
Now if that's doesn't get you excited and ready for the season ahead, I don't know what will!