Capt. Casey Dent's Zulu have run away with the competition on Day 4 of fishing adding another 3 tags (80lbs, 70lbs, 150lbs) to bring their total tags for fishing so far to 8. While hot on their heels until yesterday, Capt. Corey Hard's Askari added just the one to maintain their second place with 5 tags.
Again, it was not a hot day of fishing by any means with plenty of smaller fish around, but the big bites and big fish make it very worth it. Case and point for the team on T/T Hemisphere, fishing their first LIBMC fighting a fish for close to two hours for angler Scott Zeller that they put at 950lbs (photo via Ben "Notso" Bright above). Ben says that this fishing is a first for all the team on board and he had help from the second mate of the mothership (Kas) tag the fish and Adam at the helm. Interestingly, Ben said he snapped the hook on the leader fortunately after the tag went in (pic below).
On board Capt. Adam Jordan's Iona, angler Alicia Pasfield has taken a strong lead in the Champion Female Angler division with 4 tags adding another two on Day 4.   In fact, Alicia is leading angler overall.
Onsite added a tag on Day 4 which is also the first sat tag launch of the tournament.
The standings after 4 days of fishing are: Zulu with 8 tags from Askari with 5, Iona with 4, Adrenaline, Levante and Onsite with 3 tags, Black Magic, Ultimate Lady, Amokura, Little Audrey and Duyfken with 2, Black Label, Think Big, Kalira, Hellraiser, Top Shot, Wild Turkey, Hemisphere, Viking II, Reel Power and Fascination with one a piece.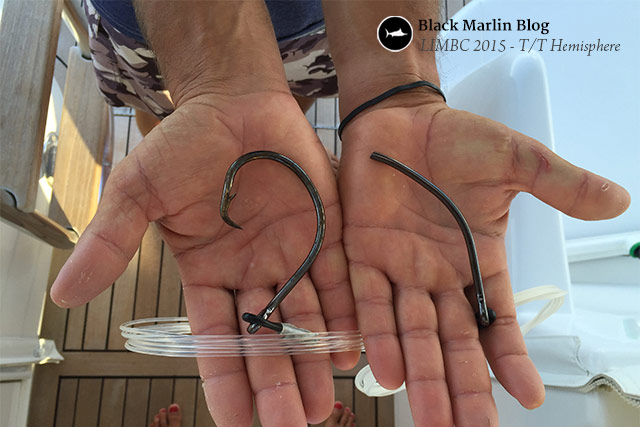 I also received a catch up report from Marlene McLean on private boat Topless who fished Monday with a big fish for angler Tim Fisher with  Benny Cooper on the leader. Marlene reports that it was Tim's first marlin ever. Well done!