Mauna Kea's report below to go with pics above.
With Zulu and Askari locked at 8 tags a piece (and Zulu ahead on countback) we looked forward to a tight last days fishing. Unfortunately noone quiet anticipated how tight with the final day, the quietest by far recording only 4 tags for the tournament fleet and none to the tournament leaders leaving Capt. Casey Dent and the team on Zulu in front for the win!
Congrats also to Reg Moore's team on Dufken who tagged two on the final day to give them the daily.  It was a good representation from the private fleet on the leaderboard this comp.
The final list of winners is below.
Champion Team: Zulu (8 tags)
Runner Up Champion Team: Askari (8 tags)
Followed by Iona 2 and Adrenaline with 5 tags and Onsite, Black Magic and Duyfken with 4 each.
Day 1 Team tagging most Marlin Zulu
Day 2 Team tagging most Marlin Zulu
Day 3 Team tagging most Marlin Iona 2
Day 4 Team tagging most Marlin Zulu
Day 5 Team tagging most Marlin Askari
Day 6 Team tagging most Marlin Black Magic
Day 7 Team tagging most Marlin Duyfken
Champion Male Angler Mitch Liddall / Askari – 4 tags
Champion Female Angler Alicia Pasfield / Iona 2 – 5 tags
Runner Up Sharon Poulter / Think Big
It really was a tough week of fishing for the entire tournament fleet.  In comparison the number of tags this year to last = 63 vs 126.  Also interesting was the number of big fish (small fish) with this year just 6 fish recorded over 800lbs and conversely, 26 tags of 160lbs or less (!!!)
Still, the fishing has been good and hopefully will kick into gear again very soon. But if you are lucky enough to find a patch of fish, it can be great. Case and point Capt. Brent James on Mauna Kea who finished up 6 days fishing on Saturday with 8 from 9 with the biggest 900lbs! Previously they had been south and doing some day tripping out of Cairns where Lockie tells me they were averaging a fish a day with the biggest 850. Some stills from the onboard cameras above and below. Great fishing!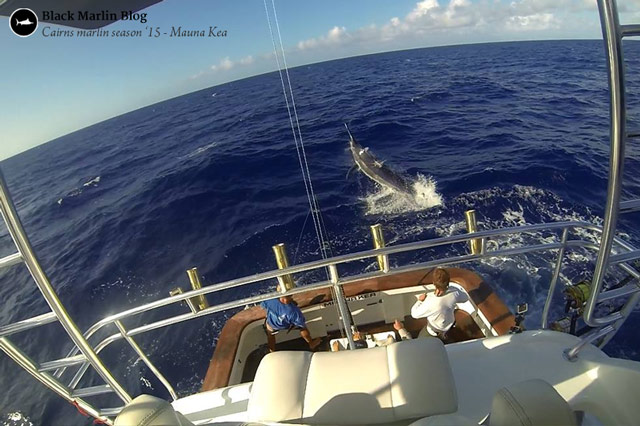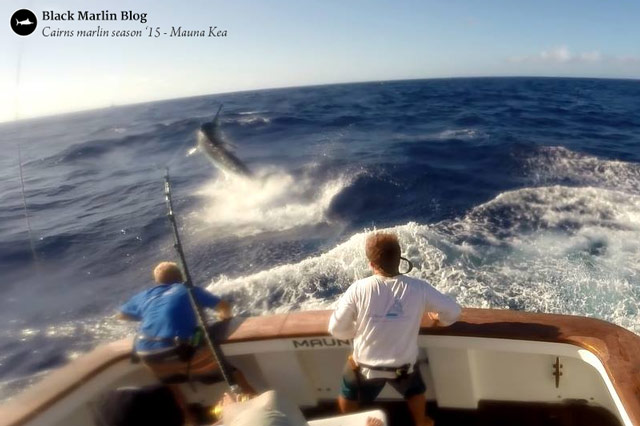 And a reminder, the Port Douglas Marlin Challenge November 4th – 8th.
Taking registrations now. Please go to www.portdouglasmarlinchallenge.com for all details and registration details.