Sorry about missing a report yesterday. When you go into town you expect the internet to be better, not worse! Anyways, a bit of catching up again but I suspect more will come in today as we get back among the fleet.
Photo above is another big fish for Capt. Billy Billson's Viking II and angler Graham Mitchel, son of legendary pioneer angler of the Cairns fishery, Basil Mitchel on Saturday.  Bill says this is Graham's third big fish for his November trip and Bill put it at 999lbs. Graham is following well in his Father's footsteps, after recommencing fishing after a 41 year break!
A great day on the water yesterday after (successfully) fighting their second grander class black marlin into the dark last night for Capt. Dan McCarthy's Moana III. Dan reports that they released the first after a 40 minute fight only to have an even bigger one bite just 15 minutes later fighting the fish he put at 1100lbs into the dark and releasing her after 2 hours and 40 minutes.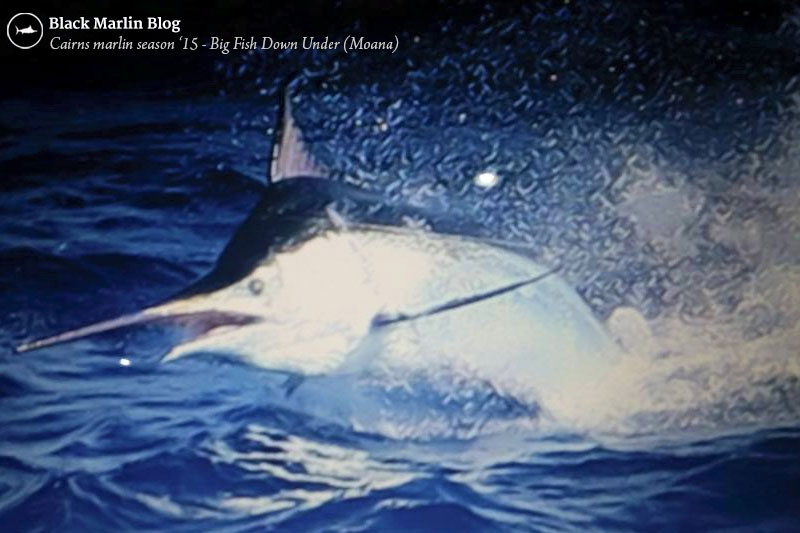 Capt. Laurie Wright on the wheel of Calypso had a good day Saturday releasing a 750lb-er and some smaller models for his anglers while nearby Capt. Ross Finlayson's Top Shot also released a few smaller ones and followed up yesterday for a big and small fish double.
And I hear that Capt. Brent James' Mauna Kea also had a top day yesterday with four fish that he put at 500, 800, 950 and 200lbs!
Exmouth Catch Up
My apologies for the internet related delay in getting this one to you.
Report via Jeni Gates from the Billfish Bonanza at the start of the month.  Jeni reports that her all girl team had a ball with 1 marlin and 3 sails including a first billfish for two members of their team.
The Billfish Bonanza was held over three days and despite some strong wind periods, it was very fishable and the gulf was flat and calm every afternoon. The west side was calmer in the mornings and there were plenty of fish to keep the anglers busy on both sides of the cape. There were sailfish, blue, black and striped marlin tagged by the 50 anglers on the 14 boats. Size of fish ranged from small sailfish estimated under 10kg, to big blues estimated at 180kg. The sailfish in the gulf were moving very fast on the baitschools.
Final results:
– Champion Junior: Riley Smith. 1 marlin
– Champion Team Tag and Release Sailfish: On Strike. 30 sailfish
– Champion Team Tag and Release Marlin: Winora II. 5 marlin
– Champion Team Combined: Simrad. 9 sailfish & 1 marlin
– Champion Team Overall: On Strike 30 sailfish