Plenty of big fish are still around and keeping crews and anglers entertained from south off Cairns right up to the Ribbons off Cooktown.  And while we've enjoyed a great run of fine weather (pretty much all of November to today really) it's going to get lumpy for a few days now. But maybe the wind will stir the fish up even more!
Fishing south, Capt. Steve Ahler's Hellraiser had another cracker day for the final day of his trip cracker on the Bank. They released a few smaller fish, missed a couple more and broke off the big girl.  Tony (on deck) tells me that she had another fish of 500lb with her that unfortunately didn't stick.
Likewise Capt. Tim Richardson's Tradition finished his trip into Cairns with four from six to 500lbs unfortunately missing another big one. That finishes up a top 13 days on the GBR for angler Stephan Kreupl with 19 marlin including 4 big ones!
Also to the south, Capt. Darren "Biggles" Haydon on Bounty Hunter also on the fish with a three from four at 200, 450 and 950lbs. And Capt. Simon Carosi on Reel Chase also released an 800lber and had more bites from smaller fish.
And Gavin Goodwin has been fishing the Bank on his boat Above Grade and are up to 5 from 8, with two of them real ones. Gavin says he has three days down, two more to go!
Up on the Ribbons a fair bit of action as well. Capt. Bobby Jones' Iceman caught a big one and a medium one and lost another big one. While on KEKOA with Capt. Luke Fallon we tried the lures again for a mid ranger followed up by two smaller fish on baits on the edge.  Nearby Capt. Ross Finlayson's Top Shot also released three small to medium fish and have been continuing their solo angler's arm workout daily.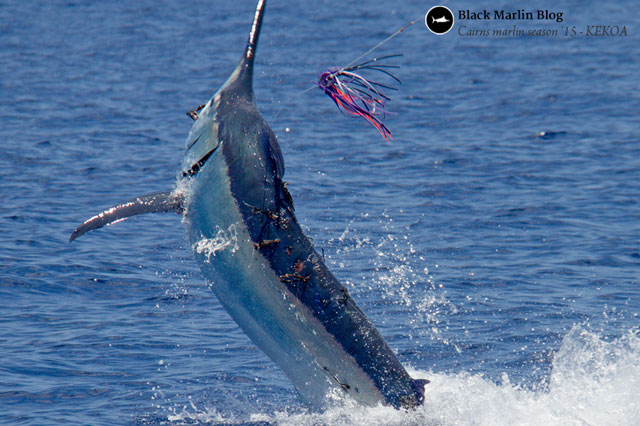 Thanks to Aaron for more details from the Hervey Bay comp. Aaron says that Mistress won with 12 blacks. Raise the Bill was 2nd with 11 blacks with Viking 3rd place with 5 blacks and 2 blues. 31 boats fished it with everyone catching blacks and the boats that went wide found plenty of blues with RUN going 3 from 7 on Saturday and seeing 2 more that wouldn't bite.