Got any weekend report? Email me the details.
Capt Craig "Sparra" Denham has Hot Shot (new owners) on the Gold Coast for her first SEQ season with the new captain and reports that fishing has been steady steady off the glitter strip. Sparra says that they have caught 7 from 17 (blues and blacks)in 7 days fishing inshore and offshore between 40 and 150lb. Gold Coast keeps on delivering!
The Port Macquarie Golden Lure has wrapped up and hopefully a report soon to come but in the meantime some great photo below via Ryan Frost of a fish on Secret Men's Business taken by Andrew Hyde (on a bluedog lure).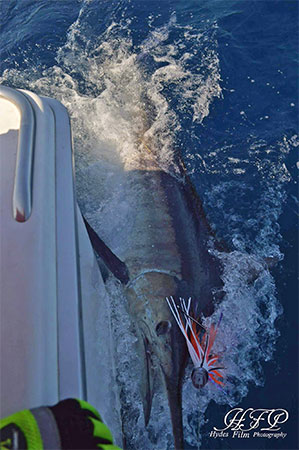 And Bateman's Bay GFC held their annual Tollgate Island Classic over the weekend with 132 anglers from 37 teams entered.
Report from president Bruce McKenzie:
"Friday's weather was not good with only a few boats venturing out. There was only one capture, that being a mahi mahi with 14 striped marlin being tagged and released (not all were officially classified as their paperwork was not presented to the weighstation presumably because they were traveling home.)
Official Results are:
Shoot Out Capture – Chips n Dips (drawn from hat)
Shoot Out T&R – Hardaraddit 24000 points
Capture Section
Heaviest Other Game Fish – Rowan Harrison 22.2kg Mahi Mahi
Heaviest Game Fish Senior Male – Rowan Harrison 22.2kg Mahi Mahi
Champion Angler – Rowan Harrison 739 points
Tag & Release Section
Champion Boat – Most Marlin – Hardaraddit 4 striped marlin
2nd Most Marlin T&R – Head Hunter 2 striped marlin (won on countback by 12 minutes from FNB.)
Highest Aggregated Pointscore Senior Male – Brian Schofield 24000 points
Highest Aggregated Pointscore Senior Female – Tegan Lucardie
23000 points
Highest Aggegated Pointscore T&R (Trailer Boat) X Factor
Champion Angler – Brian Schofield 24000 points
Early Entry Draw – $1000 to Black Boy
Unlucky Angler – Rodney Sielor
Unlucky Boat – Shotgun
Day Prize – Friday – Panlicker
Day Prize – Saturday – Deep Shit
Day Prize – Sunday – Lachlan McIver