Even since the weekend the blue marlin bite continues off the Gold Coast. Capt. Glanville Heydenrych's Mufasa found the fish again yesterday with a hot bite on the afternoon tide going 4-4-3 in the rough. Glanville said they also raised a few other that never climbed on and that its looking great for the comp this weekend.
He's out again today before prepping for the Surfers Paradise GSFC Blue Marlin Bash on Friday. Look forward to hearing how he goes!
Capt. Bobby Jones' Merlin also got another fish for Lorraine on Tuesday with Capt. Ross McCubbin on deck.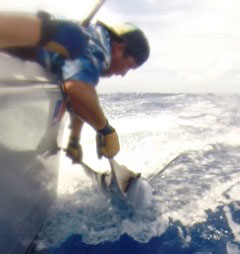 And another family boat from SEQ heading north to its new home with Marlene Hicks from the new Topless which was the old Phantom and older still Fascination heading north to its new home from the Gold Coast to the Whitsundays.
Marlene reports they had some bad luck dropping some blues off the south before releasing a black for angler Mark Hetherington for their first billy for the new boat they put at 80lbs and also Mark's his first marlin ever. Paul Moran from Seafever Charters was on the leader and Rob Wood on deck as well off Fraser Island.
Cairns 50th Black Marlin Tournament Early Bird Entries Closing Soon
As we approach the 6month countdown, the early bird entry period is about to end! Reminder to get your entries in now and secure your spot and save yourself some $$$ too.
Even if you don't have all the details you can still enter now and take advantage of the early bird pricing. Update your details later.
Enter Online at:
http://www.cpgfa.asn.au/50th-anniver…/50th-tournament-entry/
Black Marlin Blog is a proud sponsor of the 50th event!