Sydney Blues
Hot fishing for those who braved the weather on the back of the postponed Broken Bay Invitational (New dates: 30 April, 1 May).  The Findlay brothers Murrifin reported some of the best blue marlin fishing they've enjoyed down that way for years.  On Sunday they went 5-5-3 and with one of their 4 blues for the day leaving without a tag. The other fish was a small black jumped off.  Fish were 65, 75, 110 and 130kg.  On Friday the conversion rate suffered in the typical blue marlin way with them going 1 from 4. Rod said they pulled the hooks on a fish in the 160-180kg range after 20 mins but not before getting some great photos (above).  Other club boats on the blues yesterday included Escapade who released two blues and a stripe with oOne blue at 150 the other at a very conservative 250!  And Dealne caught a 180kg blue and some big dollies and wahoo for dinner.
Gold Coast
The Gold Coast-ers who took advantage of a weather window on Friday were likewise rewarded with some more great blue marlin action.  Glanville Heydenrych's Mufasa Sport Fishing had a friends and family day on the boat for a 3 from 3 blue marlin including a first ever blue marlin for Glanville's visiting mum!
Inshore there are still a few blacks around but not the peak condition that Murphy's Law found the week previous.  Grant Thomson also converted a blue in his Kevlacat on Friday before heading in for a look at the blacks. And Michael Umback hit the water in his trailer boat for a 2 from 2 black marlin also on Friday east of the Seaway.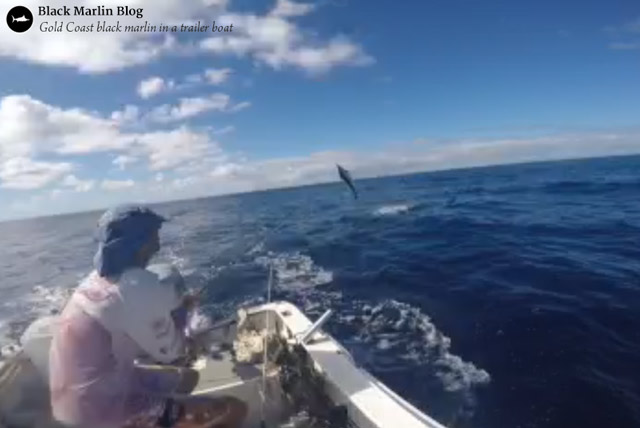 Earlier in the week Capt. Ross McCubbin joined the Caelli's on Jugs also looking for that black marlin motherload and scored Matt his first ever sail – a bucket list fish for him!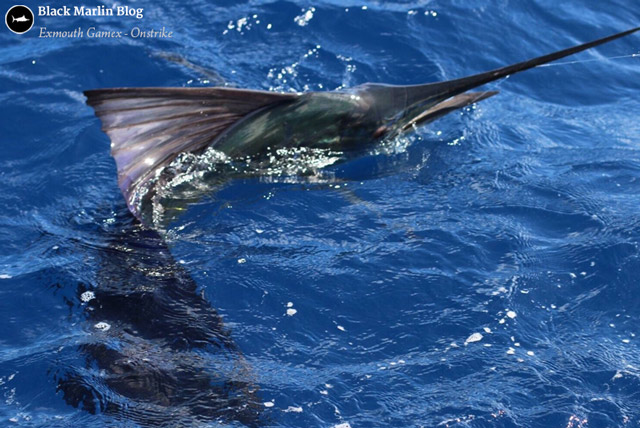 Townsville
John McConkey's Maximus accounted for the first black marlin of the year in the reefs off Townsville on the weekend.
Gamex Day 5
I'm a little behind with the Gamex updates considering the tournament has been won now (congrats to Eddy Lawler and team on Peak SF on Pelagic Hooker!), but the updates will continue.  Thanks to Ben Knaggs again!
The penultimate day of competition saw an improvement in both the weather and the billfish action. Again, most fish tagged were small to mid-sized black marlin, but a good burst of activity out wide saw some big blues brought to the tag pole as well. Foremost among these were Jarrod Wiggers' 330kg blue on 37kg fishing aboard Crakawoody and Brad Greere's 275kg blue also on 37kg fishing aboard Time Out.
Day five billfish stats were –
Marlin 68-51-22
Sailfish 4-4-3
Spanish mackerel featured heavily at the weigh in, with most crews targeting them along the Ningaloo Reef or around the Muiron Islands finding plenty of fish in the 10-20kg size range to test their skills and rack up the points on light line classes.
Photo once again courtesy of Onstrike Charters.