With two big tournaments on the North Queensland light tackle season coming up – next week the Mike Carney Toyota Billfish Challenge in Townsville and the Telstra Cairns Bluewater Billfish Tournament out of Fitzroy Island – fishers have been avidly awaiting reports and opportunities for a pre-fish.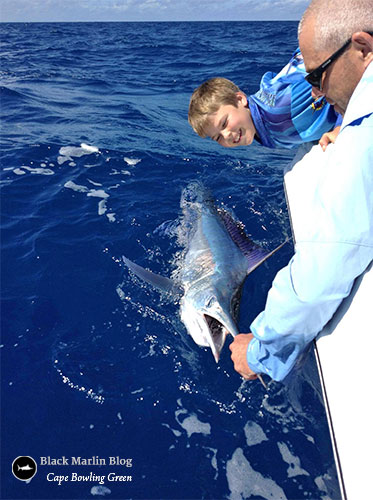 Unfortunately both have been few and far between with the continuous wind and even rain pummeling us up here, but for those who have finally been getting out, a few reports are filtering through just in time!
Bernard Tracey and his son Liam fished the Cape Bowling Green northern grounds off Townsville on Thursday and while they only saw the one fish which was successfully converted by young Liam (congrats Liam!!) Bernard also reports plenty of bait and whales at putting on a great show.  Conditions are ripe so lets hope the fish put on a show next week!
Photo left.
In Cairns, local clubbie Don Eccleston's Therapy fishing the wide grounds yesterday had the hot bite converting two from four.
While on Capt. Luke Fallon's KEKOA we fished three days this week, raising fish each day before finally converting and putting young Bryson, visiting from Texas, onto his first black marlin yesterday.  Bryson is hoping to work his way through all 9 billfish for his slam so was great to be able to cross this one off the list for him – although foul hooked, it gave him one of the tougher fights that hopefully he'll experience and over 2.5 hours on the rod.