As mentioned yesterday some catch up photos. This one at top was of a fish on Capt. Bobby Jones' Iceman that he put at 950lbs.  They are in Cooktown on changeover again after the last trip.
And photo below of the fish on Capt. Casey Dent's Zulu from Tuesday that was right up there on the mark and one of 3 from 3 for the day. The first two were around 200lb mark and the big fish bit in the afternoon for angler Meagan, her biggest fish to date.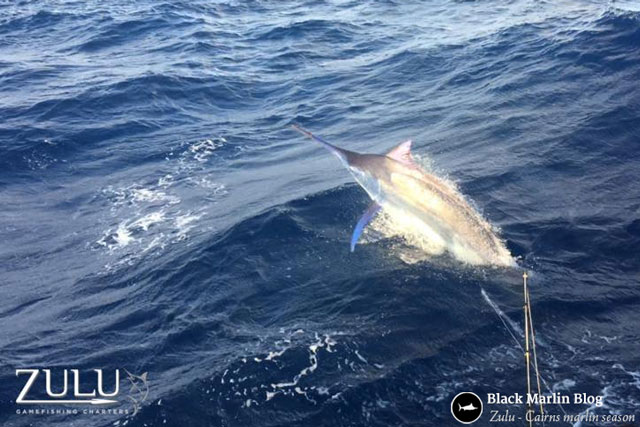 Capt. Tim Dean's Calypso finished up a duo trip with Capt. Darren "Biggles" Haydon's Bounty Hunter with Dangerous, Mark and Ed with 16 fish between the two boats to 900lbs. Tim is back out and yesterday put 70 year old Dave Heeter from West Virginia onto one at 400lbs in the middle.
Another catch up report from the weekend on the Grander Sport Fishing Team's Black Magic. Tom tells me they went 3-3-2 on Sunday with Jack Bartlett in the chair.  Two smaller fish around the 200lb mark, losing one,and then then releasing a solid 600 pounder late in the afternoon.
Back to reports from yesterday. Capt. Tim Richardson's Tradition was on the first day of a new trip with Duarte from Mozambique and Aaron, and went 2 from 3.  Capt. Danial Carlson's Little Audrey is back on the reef and Dan says they are plugging away with 1 or two a day.
Down at Fraser I hear that at least two boats released three blues a piece yesterday. More to come!