Both Sunshine and Gold Coast anglers have enjoyed another great fishing weekend on the water.  And the Gold Coast is finally seeing the numbers that the Sunny Coasters have been enjoying over recent weeks.
Gold Coast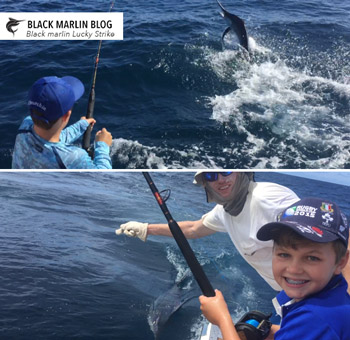 Capt. Glanville Heydenrych's Mufasa had a top day on the water yesterday going 5 from 7 on the blacks with some decent size among them putting the range at a good fun 20-60kg – and they also jumped off another larger one. While they spent a lot of time on Friday trying to raise a blue on for no love, they finished up a little early to try have a look on the light tackle grounds and were hooked up within minute to a beast of a black on 15kg which they tussled for two and a half hours!  Shot off the GoPro footage at top.  Glanville is back out again today and hoping the fish are hungry!
Another very happy youngster celebrating his 12th birthday with Capt. Ross McCubbin on board Lucky Strike with a birthday he won't forget! Locky and 3 of his mates recorded 4-3-3 on the black marlin switchbaiting on lovely day to be on the water.  Big congrats and happy birthday Locky!!
Sunshine Coast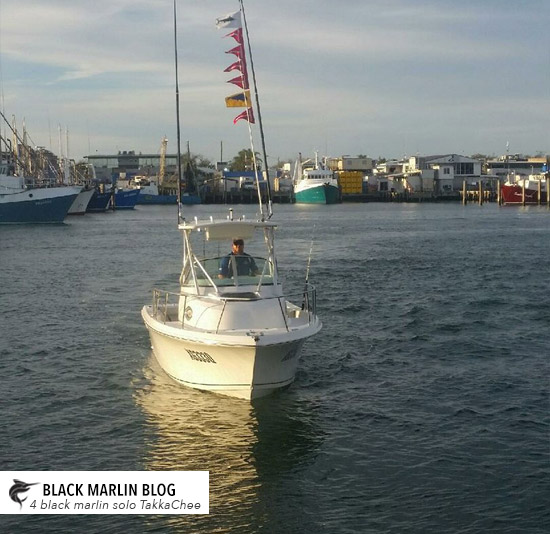 And after a few days off for the marlin to re-gather, crews enjoyed another good weekend on the water!
On the SCGFC side Tim and Ben Massurit on Beat tagged 6 for the weekend.  Ben, who at 10 years old is a SCGFC Small Fry angler, is showing off some serious angler skills now accounting for all the fish (as well as a dolly) himself! Rod Clarke's Illegal Activity tagged two for Dale Penhall on Saturday while Oceanrunner went 14-5-3 blacks.
Go Hard tagged 1 for Gerhard while Reel Capture recorded another 2 from 2.
Another Junior, Bryce Bartleson fish on board Neville Martens' Shearwater tagging 4 blacks on Saturday and followed up again on One Way 1 on Sunday with another as well as a 50kg sailfish! (photos below!)
On Saturday Cruise Control recorded 3, then added 2 more and a dolphin fish this time on Black Mumba.
On the Mooloolaba GFC side, Takkachee went 1 from 3 on Saturday with Jamie putting Scott Tunnicliffe onto his first black marlin. Lance O'Brien on Gusher also put his young son Tyler onto his first black marlin and tagged another for wife Deanne, while another club youngster Tyler Barnes also recorded his first black marlin and Filthy got 2 black marlin on Saturday.
But the big results for yesterday was Jamie back out solo on TakkaChee who recorded a  fantastic 4 from 8 on black marlin and 1 dolphin fish! Congrats Jamie – great effort solo!
Update: Mick Wrack and son Ethan today did half day on Wrack Off for a 2 from 5 for Ethan. Pity they couldn't stay out there the whole day!
Video from David Granville on board Reel Capture yesterday as well: