It was tough fishing at Port for the Garmin NPSGFC Shootout and an even tougher trip home for some with a storm rolling through. Hope that everyone made it okay and good luck fishing today!
—
But the big bite was on the Sunshine Coast again with good numbers both seen and converted. David "Tagpole" McMaster's Pole Dancer went top dog for the day with 8 tags with photog David Granville on board for some great shots of action both on PD and nearby above and below.
Representing the trailer boats again with top marks on conversions Alex Fenwick's Never Home was 4-4-4 including a successful double header with Kourtney fighting at the back and Daniel up on the front fighting – good stuff!  Jay Graham's Chaos was 9-4-2.  Deano and Bryce Bartleson on One Way went 6-5-5.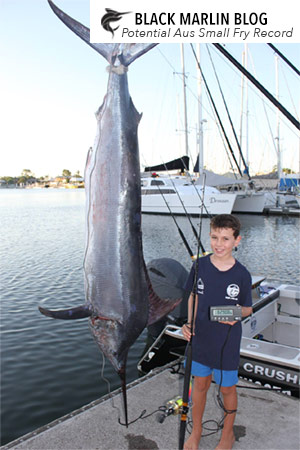 Daniel Couchman's Smells fishy raised big numbers with a 13-11-4, Black Mamba was 6-6-4 and Beat got 2 just a day after Ben Masuritt weighed another potential small fry record with a 62.90kg black on 8kg (for a three fish Friday).  Photo of Ben and his fish right!
No doubt some MGFC results to come through as well.
Gold Coast GFC was also on the board with Ryan Goding's Mojo recorded 4 from 7 while Glanville Heydenrych's Mufasa also released 4 from 5.  Capt. Craig "Sparra" Denham's Hot Shot also spent 2 hours fighting a larger model on 10kg!
Thanks to Daniel for his help putting the report together and to David for the great pics!
Updated: From Jamie for the Mooloolaba GFC boats with Gary Norris on Challenger tagged a black Friday and again on Saturday solo. Takkachee tagged 1 Saturday as did Reel Lady. Jamie reported conditions were very ordinary but there were a few still biting.