What a comp this year! Outstanding fishing by some of the team. Check out the huge photo gallery below!
But first a bit of fishing from JB outside the comp. Adam Polly has just spent an incredible 2 days marlin fishing at Jervis Bay with Alistair McGlashan and Craig Rushby. Fishing Wednesday they went 9 from 13 (1 black and 8 stripes) including 2 successful double hookups almost getting a 3rd (the line on one of the marlin was run over by another boat!) On Thursday they followed up with 5 from 8 all stripes.
The best part is that all of the action is on film including some insane drone footage which will  be aired on Fish'n With Mates on Chanel 9 soon!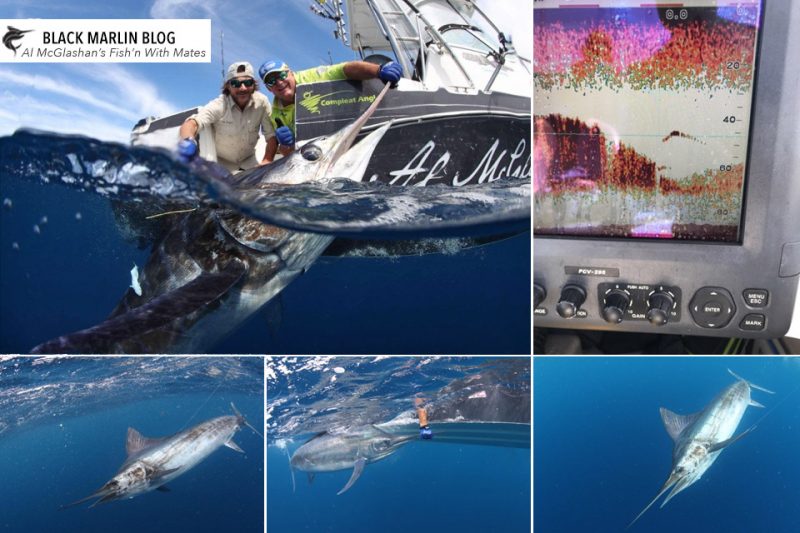 Interclub Day 3
While the final day of fishing was no real contest in terms of overtaking tournament leaders on Born Free, there was some more great fishing with Born Free, Freedom and Murrifin all finishing the day with 7 tags and Freedom taking the day on points and marlin (a shark each for Born Free and Murrifin). Profishent also tagged 6 plus 2 sharks.
Congrats to Born Free for some amazing fishing with 29 tags in 3 days of fishing!
Full results to come. Some great pics above and below with huge thanks to Ben "Notso" Bright who has spent the past three days fishing on Freedom with Capt. Scotty Thorrington!
Interclub Day 2 Recap
With the water inshore turning green, the focus turned to boats fishing the shelf. Once again, Born Free had another outstanding day of fishing adding another 11 tags.
Some other great fishing from the team on Broken Bay's Anyfin who added 10 tags to their tally on day 2. And Newcastle's Ningaloo with 7.
Previous days leaderboard teams on Shelby and Freedom had a quieter day.
Interslub Day 1 Recap
Day 1 of the Interclub has seen teams speeding out of the blocks and some really great fishing~!
NPSGFC's Born Free leads the way after day 1 with a massive 11 tags! (8 stripes, 3 blacks)
Shelby is in second with 8 tags – 6 stripes, 2 blacks – including 7 for lady angler Amy McAndrew.
Capt. Scotty Thorrington's CCGFC Freedom is in third with 6 black marlin tags.
Other great numbers include:
Cookie 5 stripes & a black
Profishent 6 blacks
Gamefisher 3 blacks, 2 blues and a whaler
Little Audrey 3 black and 2 stripes
Maddness 5 blacks
Ningaloo 4 stripes, 1 black
True Grit 5 blacks
Wild Thing 4 blacks and a stripe
Absolute 4 blues
Anyfin 2 blacks, 2 stripes
Sea Baby IV 2 stripes, 2 blacks
Marauder 3 stripes, 1 blue
Smartbill 4 blacks