Updated 27 March: Well they've done it again. Another week another great Monday of fishing while a lot of people are working.
On the Sunshine Coast they had the little black marlin schooled again with Sunny Coast GFC's Pole Dancer and Raising Havoc tagging 9 a piece while Chaos tagged 4 and Dragon Lady 1. But the huge kudos must go to Troy Windsor on Blade Runner 2 who tagged 6 fishing solo!!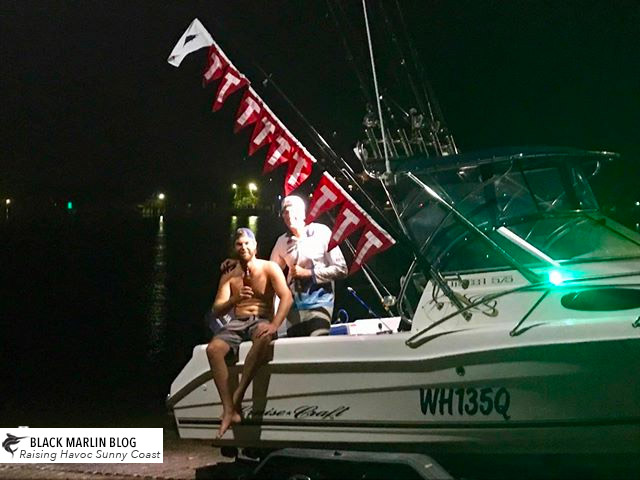 And Monday at the PNG National Titles was just as good. Daniel King's Drug Runner lead a charge of boats who put in the miles (55m) to fish the waters of Tammy Island.  They went 12-9-9 blue marlin for the day!!!
The Seeto's Black Label went 17-14-7 fishing their also. Total stats for the day were 46 bites and 22 tags as well as 3 weighed.  Thanks again to Capt. Damian Collette for keeping us up-to-date!
Weekend Fishing
On the Sunshine Coast, although the weather wasn't terribly great and the fishing not up to the previous weekend, still plenty of fish caught. Reel Capture again top scored with 6 while the Lee boys on Raise A Bill got 4. Other Sunny Coast crews were 1's and 2's with Mooloolaba GFC also represented. Club Captain Jamie Behrens tells me he fished on Dave Mortons' Filthy yesteday for 2 from 4 light tackle black marlin!
43rd PNG National Titles
Teams from all over PNG and Australian have once again converged on Lae for the annual National Titles this year marking the 43rd event. And fishing has also been off to a great start!
Day 1 (Saturday) saw 34 hookup and 17 blue marlin tagged as well as an additional 2 weighed. Day 2 (Sunday) 29 hook ups with 15 tags and 1 weighed.
Saltaire's Capt. Damian Collette is once again competing and son Jake took the boys from Spin Isi out yesterday and weighed the only blue for the day at 111kg (photo left).
Gold Coast's Leigh Holtsbaum is also in Lae for the event fishing with the Beirne & Hickey families on board Sea Hawk. They had a great day on the water on Sea Hawk day 1 tagging 3 blue marlin as well as a sailfish and a couple of small tuna. Conan Bland caught his first and second nlue marlin on 15kg and 10kg line classes. While another team member Peter Kelso also caught his first blue n 24kg.  Leigh accounted for the sailfish himself on 15kg.
Day 2 was another great day for the Sea Hawk team tagging a couple more blues to bring their total to 5 blues and a sail for the 2 days. The Seeto family's Black Label added 4 tags (blues) yesterday to bring their total to 7 over the two days!