Two big tournaments were held over the weekend with some great fishing for the competing fleet. On the Gold Coast at the Garmin Blue Marlin Classic, David Trask's Big Business took home their second win in as many tournaments!  (Full tournament report to come!)
Likewise the Kiama Big Fish comp was held over the weekend. Some spectacular fishing among the fleet (full results below). Port Hacking GFC's Dog House took the clean sweep in Capture with all three of the heaviest blues at 224kg (Mick Bailey), 193kg (Matt Day) and 160.5kg (Tristan Davis).
SEQ Hot Fishing
Outside of the comps and in the leadup to the Mooloolaba GFC's Garmin Billfish Bonanza coming up this weekend, some more great fishing. Brent Higgin's Sicario (SCGFC) had an awesome day heavy tackle with 7-6-3 blue marlin!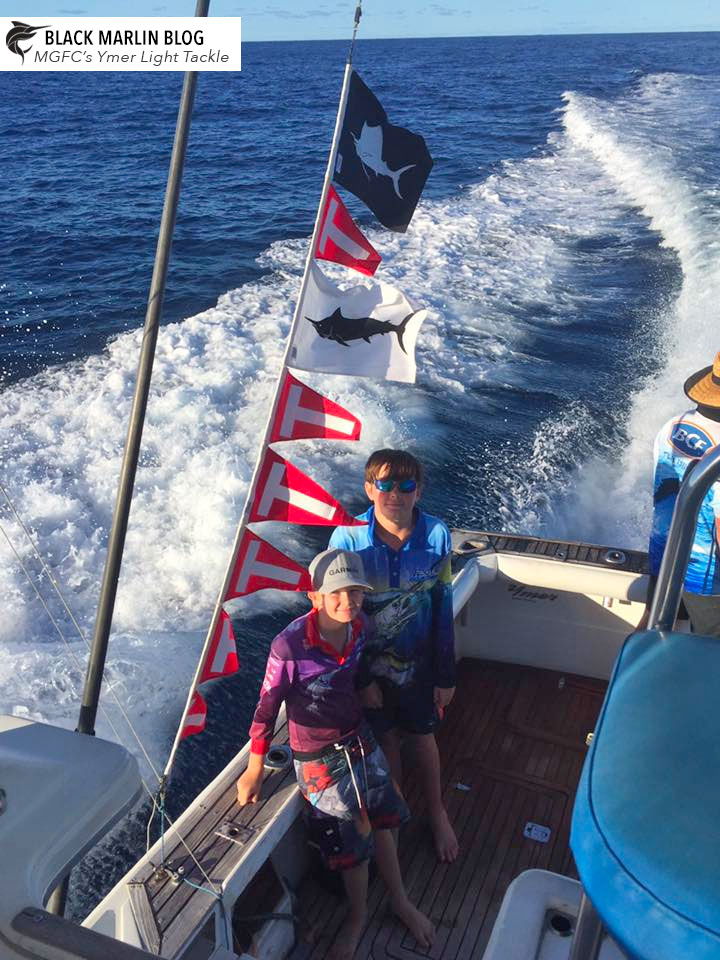 Meanwhile the light tackle inside continues to fire. The Mooloolaba GFC team on Ymer tagged 6 (5 blacks and a sail). As skipper Ben Stasiak says that it has been a late start (as far as numbers go) to the Sunshine Coast light tackle season this year, but good schools of slimies have recently been holding over the grounds of late. And plenty of boats have been enjoying days tagging multiple fish (more results below!).
On Ymer after a late start they hooked a black straight away on the bait jig! Among the fish they had a triple hook up of real small blacks which created a bit of excitement and even better they managed to tag all 3. Finished the day with another black and a large sailfish. Ben said it was also interesting to note the different size in the blacks with some real young fish hanging with 2-3 year old fish.
Channan Arbuthnot went 5 from 8 solo in his boat Reel Game (7 blacks and one sail). Channon said he lost 3 due to double hook ups – a tough gig when you're the only one on board! SCGFC's Club Captain Rob "Smithy" Smith also tagged two on his charter yesterday and jumped another marlin off mackerel fishing later in the day!
Kiama Big Fish results:
CAPTURE:
*Champion Boat – Rare Breed 10,608.10pts
*Runner up Boat – Outcast 7569.00pts
*Heaviest Marlin – Mick Bailey 226.4kg Blue Marlin on 60kg line
*2nd Heaviest Marlin – Matt Day 193kg Blue Marlin on 60kg
*3rd Heaviest Marlin – Tristan Davis 160.5kg Blue Marlin on 60kg
*Heaviest Shark – Mark Llyod 174kg Mako on 15kg line
*Heaviest Tuna – Matthew Britton 72.5kg YFT on 37kg line
*Champion Senior Male – Mark Llyod 7569.00pts
*Champion Senior Female – Carol Goodger 2392.14pts
*Champion Junior – Taj Newcombe 7038.38pts
TAG & RELEASE:
*Champion Boart – Zorro 80,000pts
*Runner Up Boat – Side Effect 57,500pts
*Highest Pointscoring Boat (Billfish Only) – Zorro 80,000pts
*Highest Pointscoring Senior Male – Gino 57,500pts
*Highest Pointscoring Senior Female – Hayley Bonnici 80,000pts
*Most Marlin Boat (37kg and over) – Organised Kaos 4 Marlin
*Most Sharks boat – Run A Muk 1 Mako
*Most Yellowfin Tuna Boat – Angler Management 2 YFT
*Most OGF Boat – Kiama 5 mahi Mahi
*Champion Junior angler – Taj Newcombe 310pts 5 Mahi Mahi
From the sponsors
For sale with Game & Leisure boats are two iconic names of the Australian game fishing industry Huntress and Maitai. Check out more interior and running shots here.