The Black Marlin Fishing Blog is your one-stop for Australian marlin fishing reports. Kelly posts several times a week (and daily during the Cairns Giant Black Marlin Season) to keep you on the bite and on top of all things happening on the billfish front across the country – her reports come straight from the water from skippers, anglers, gamefishing clubs and observers Australia-wide.
Want to submit a report? You can do that here.
Most recent reports:
Check out the homepage for the most recent reports or the archive page for earlier dates – the archives are available for your reading pleasure way back to 2006!
Australian Marlin Fishing Resources:
The website is also a valuable resource for all things marlin fishing in Australia. Visit the Charter Boat or Captain's Directory for an alphabetical list of the professional charter fleet who regularly contribute reports to the blog or the Destination Guide for more information about the various regions and seasons in Australia.
Marlin Products & Images:
If you are after marlin memorabilia, you can't go past the Online Store for all things marlin (calendars, photo cases, canvas prints) and if you can't find the image you want, check the photo galleries as the vast majority of these images can be made to print for you as well.
Search BMFB:
Last but not least, can't find what you're looking for? Try the search box at the top of the RHS column.
Follow BMFB on social media or sign up to the newsletter mailing list (once a month to your inbox) or subscribe via RSS so you don't miss a report!
---
More about BMFB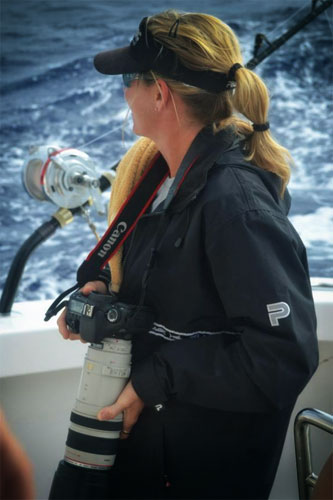 The Black Marlin Fishing Blog is the brainchild of Kelly Dalling (now Kelly Dalling Fallon). In 2005, Kelly spent her first Giant Black Marlin Season alongside her skipper father Jim. A long term blogger while working overseas, Kelly thought nothing of creating a new blog to post daily marlin fishing reports from the Coral Sea. Now working on board KEKOA with her husband Capt. Luke Fallon, Kelly is now a veteran of 15 Giant Black Marlin Seasons.
Fortunately the technology has not let her down and Kelly is able to post marlin fishing reports from miles out to sea where even mobile phone service is sketchy – from right amongst the action! And the readership has not let her down either. During peak season the blog receives thousands of visits each day from gamefishing enthusiasts around the world.
Kelly has continued blogging through the 2006-2019 Cairns Giant Black Marlin Seasons and has also expanded the blog to include year-round marlin fishing reports beyond Cairns from up and down the East Coast of Australia, and occasionally, throughout the world. The archives are available online through the home page, feel free to wander through. Warning, it can be very distracting! (Although – due to a computer glitch – the 2005 archives no longer exist. Weep!)
In 2008, the professional fleet came on board with a huge number of boats also contributing to the reports. Please show your support to these wonderful and talented Captains by visiting their listings in the boat directory. If you're planning a trip, these guys are the pros, and they fish all up and down the coast.
Of course this blog would not be able to continue without the ongoing support of Capt. Jim Dalling (Dad) who provides in-depth background and knowledge at the drop of a hat (he's like a walking and talking encyclopedia!)
In 2010, Capt. Jim handed the reigns over to Kelly's husband Capt. Luke Fallon, himself a 34 year veteran, and the team on board KEKOA as Kelly's joined the k-crew!  And on the board the flagship 56 foot O'Brien, we have the technology to bring you even closer to the action than ever!  More photos, more video and more reports!
Work with Kelly
When Kelly is not fishing, writing about fishing on this blog, feeding hungry fishermen, or taking fishing pictures, you will find her busy working on her other business, Keruko.com and KellDallFall.com. As Keruko (a nickname ode to her many years spent living and working in Japan), Kelly produces freelance websites and graphic art (ads, business cards, photo art) – usually fishing related of course – and would love to be involved in your project too.
In addition, Kelly is available to:
Attend your (fishing) event to live-blog and photograph
Contact Kelly by email, it all starts with a simple idea.