Updated: Day 1 of the Interclub has seen teams speeding out of the blocks and some really great fishing~!
NPSGFC's Born Free leads the way after day 1 with a massive 11 tags! (8 stripes, 3 blacks)
Shelby is in second with 8 tags – 6 stripes, 2 blacks – including 7 for lady angler Amy McAndrew.
Capt. Scotty Thorrington's CCGFC Freedom is in third with 6 black marlin tags.
Other great numbers include:
Cookie 5 stripes & a black
Profishent 6 blacks
Gamefisher 3 blacks, 2 blues and a whaler
Little Audrey 3 black and 2 stripes
Maddness 5 blacks
Ningaloo 4 stripes, 1 black
True Grit 5 blacks
Wild Thing 4 blacks and a stripe
Absolute 4 blues
Anyfin 2 blacks, 2 stripes
Sea Baby IV 2 stripes, 2 blacks
Marauder 3 stripes, 1 blue
Smartbill 4 blacks
---
The three-day format of the NSW Interclub started fishing today with many of the teams enjoying the Lyndy Grieves Memorial Ladies' Day yesterday on the water as well.
Some photos above and below from Claire Jones fishing on Scott Morris' Game Time who went 3-3-1 at Seal Rocks yesterday with the one black marlin for Claire on the rod.
Other notable catches include a potential Australian and NSW Record for Makira Wright on Tantrum with an 82.5kg blue marlin on 15kg line. For something different, the fish jumped in the boat on the leader so no gaff shot needed! (still from the video of the fish below – action shot!)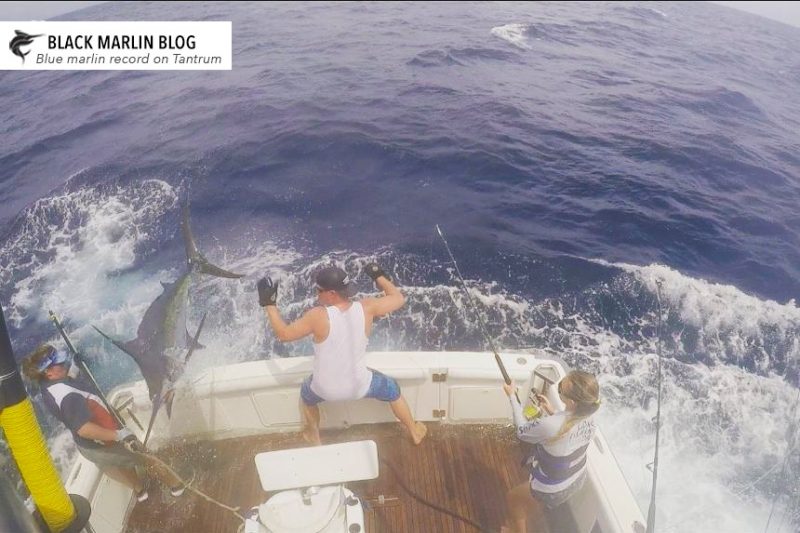 Claire also got this shot of Luke Maddern's Maddness fishing nearby who went 4 from 5 (4 blacks) and a shark. And Capt. Tim Dean's Calypso also released four marlin including a grand slam for Nick from the UK!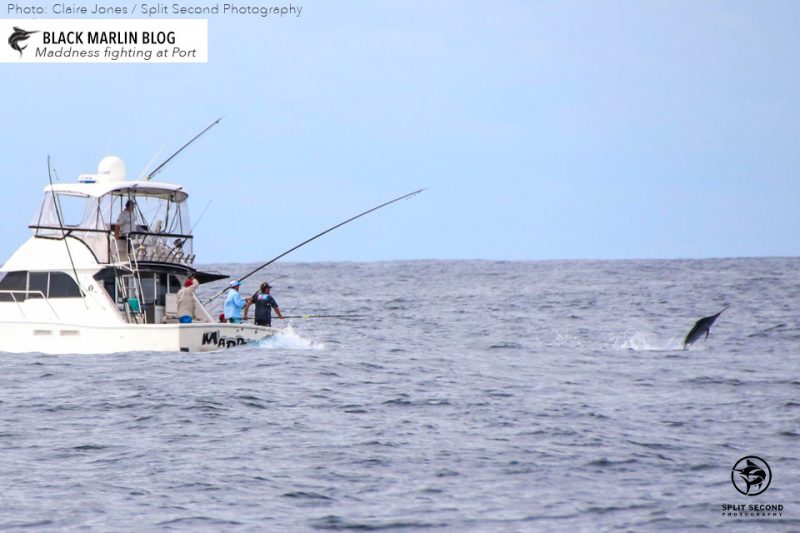 Good luck to all the teams competing over the weekend!  Ladies' Day results will be posted at the end of the comp.
Outside of tournament fishing a making a move to greener pastures this week were Tom and Chloe Laurence on Tomahawk.  Chloe tells me they fished Jervis Bay for their best daily result on Wednesday which was an 8 from 9 (7 stripes, 1 black). World class fishing!