Malcolm Florence (1945–1996) was an Australian game fisherman, writer and filmmaker whose films and writings brought a lot of attention to the Cairns giant black marlin season including:
Black Marlin Dream Fish
Cairns Black Marlin Mecca
Black Marlin The Ultimate
Saga Of The Ribbons Reefs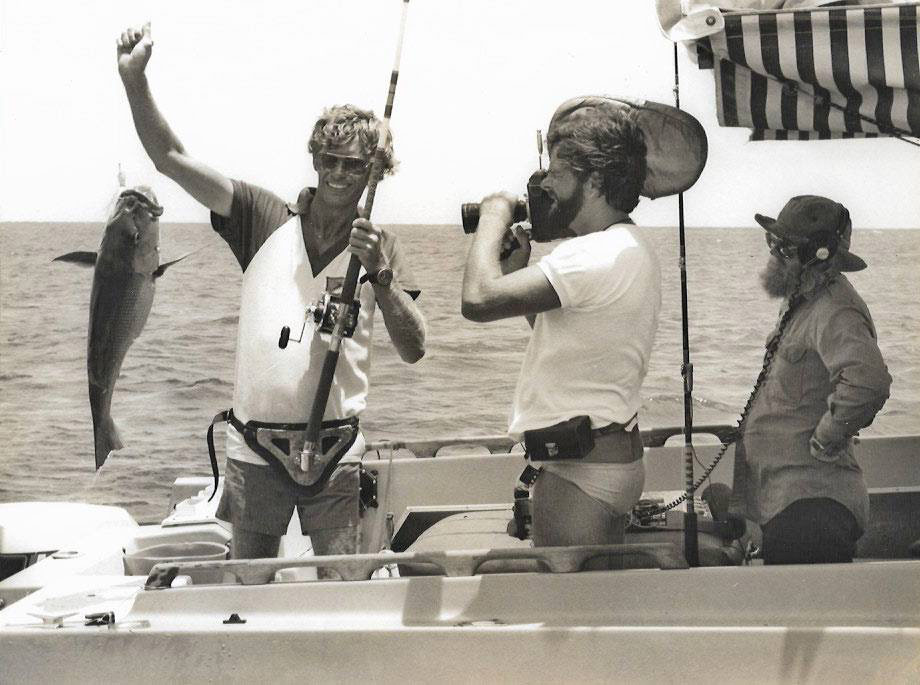 Mal Florence Big Fish Down Under
Capt. Jim Dalling, later a nearly 30-year veteran of the Cairns marlin season himself, first fished the Cairns marlin season on his boat Jac-Kel, camera boat for the filming of Mal's Big Fish Down Under series on the Ribbon Reefs in the late 70's, early 80's.
Read on for Capt. Jim's memories of filming below.
Mal and Mark Louez did a pilot series for the ABC called Sportfish Australia in the 70s. They used this experience for a public funded megabuck production called Big Fish Down Under.  A lot of the Townsville fishing fraternity were involved and I got the job of being an external camera boat with my Shark Cat 'Jac-Kel'.
We started the series in the late 70s with 'A Young Man's Dream', sailfishing at Dunk Island with Mal and son Anthony. It was late in the season and the fishing was slow but we got the job done. One of the most notable parts of this trip (for me) was the start of Malcolm's sayings, Malcolmisms, which would become part of fishing folklore. I vividly remember the term 'black anchor' used in this episode.
In late September we moved to Cairns for the marlin season and the episode on black marlin fishing with Bernie Smith on 'Gamefisher' where another of Mal's famous words "Go Bernie go" still haunts me to this day. Before we even left Cairns we were all woken at 2am and told to abandon ship as the 'Coral Reeftel' was sinking. However the skipper reassured the Port Authority that just because the plimsole line was a foot underwater, we were just heavily loaded for the forthcoming trip!
It was a year of great fishing but also rough weather. Memories for me included huge boxes of camera and sound equipment sliding around the saloon of 'Gamefisher' threatening to chop the legs off anyone who entered, Bernie perched in the tuna tower all day in only a pair of budgie smugglers, and two interviews with Mal – the first was a trip across to 'Sea Venture' for drinks and nibblies with Brazzaka and Lee Marvin, and the second to Peter Wright on his mothership to interview angler Robert Douma who weighed three granders in that one day.
After two weeks on the 'Gamefisher/Reeftel' we moved over to the mothership 'Si-Bon' to make way for Bernie's long standing charter, the 'Royal Stones'. Jimmy Gates can provide the details there but sufficient to say that I strategically left my outboard fuel on the top deck of 'Coral Reeftel' and every lunchtime when I re-fueled there was at least a dozen topless beauties sunbaking.
The 'Si-Bon' episode was about sportfishing the Reef on Gary Nichol's 'Gyra'. By this stage I was well and truly over sitting around most mornings with directors' discussions and endless radphone calls. So Bobby Blasdall came up with the cunning plan to bait fish most mornings, however Mal only got 50% of the bait we caught. One such day when we were about to return to the mothership for lunch and trolling a scad across the opening at No Name, I hooked the monster on my old battered jig stick, a Sea Line spooled with 80lb dacron. Once we let Mal know, the boys came charging out on 'Gyra' and history shows how it panned out in that episode after handing the loaded rod across.
The final episode at Lizard Island that year was a series on Fishing the Flats, especially for bonefish – which incidentally Dale Welldon caught two of bottom fishing in later years in that area. That series showed the remarkable country to the west of Lizard Island and featured Vic McCristal and his launch.