Exmouth continues to amaze
Word overnight from Eddie at Peak Sportfishing in WA that their bumper 2014/2015 season continues.  Yesterday they recorded what Eddie is calling a 'super' slam with 4 species of billfish in one day – a 3-3-2 blue marlin, 2-2-1 striped marlin (one of a double hookup), 1-1-1 Black Marlin and 2-2-2 Sailfish It's amazing that you can catch all of those species in one day, in one place. Exmouth really is da bomb!
NSW South Coast
While Vince is working on a tournament report for me from Bermagui on the weekend (thanks Vince! And the Bill Heyward results are coming too!) there are still plenty of fishing being recorded all along the south coast.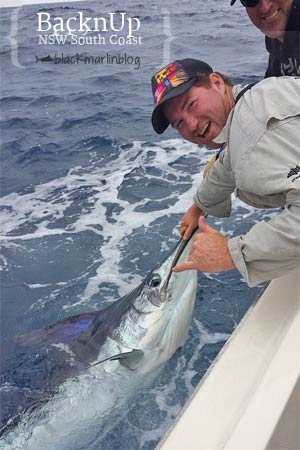 Darren Buttigieg fished Tathra on Tuesday on his mate's boat Back n Up and told me that the bait was the thickest he has seen for a long time. While the water temp was only 21.5 (with a little bit of current pushing in from the east) there were plenty fish around and he managed to snag 6 stripies from 8 bites.
Darren said that all stripes were above average size. Yesterday he was out again and while the bait was conversely almost non-existent, he did manage to tag one fish that already had a tag in it (which had a lot of growth which would suggest it's been in there for a while) we look forward to hearing where/when it was originally tagged when the details are available.
Lee Rayner was another enjoying the bite on Tuesday which Lee says stretches all the way from Eden up to Bermi. Lee said that many boats around him and Darren all ended up with good numbers for the day and he accounted for five on his boat with bait balls and pack attacks from mobs of stripies!
Some great shots from his boat Lee Roy below.
This slideshow requires JavaScript.
Sydney
The Sydney bite continues (haven't heard much from Port?!) and Adam Polly sent me a report from his fishing off Sydney on Tuesday as well in the pouring rain and pretty lumpy conditions in 30 fathoms. Adam finished the day with 3 from 5 on black marlin in the 30 and 60 kg range. He took Took Tim Mumford out for his first day gamefishing got him 2 the second one was a result of a successful 2 up, double hookup!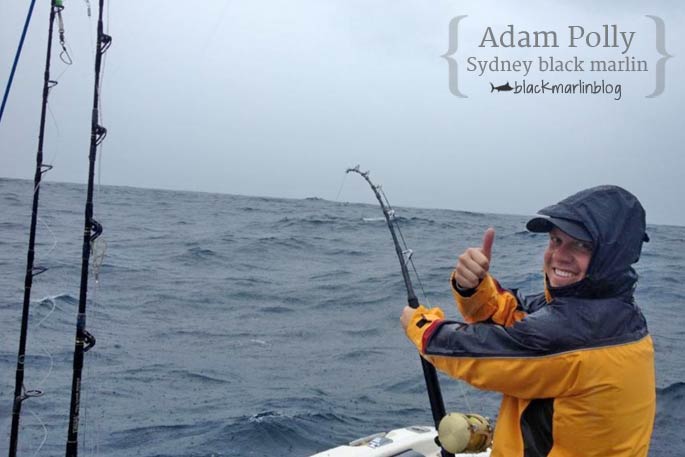 Redcliffe Penninsula GSC Australia Day Billfish Tournament
Thank you to Mark Rose for the wonderful report!
20 boats comprising of 15 in the over 7m class and 5 in the under 7m, 85 male, 10 female and 3 junior anglers started fishing on Saturday in less than favourable conditions with heavy rain and wind hanging around until about midday, when the sun finally showed. Saturday turned about to be our most productive fishing day with 13 of the total 30 billfish being tagged.
While Sunday provided good weather, the fishing was a little less productive. And Monday was by far the best day as far as weather was concerned with little to no wind and sunshine a plenty, but again the fishing was hard.
(Read on for more as well as some great photos!)