Sometimes you make the right decision and yesterday was one of those. After hearing all the hype about the Bank going off, Capt. Jim decided to go with his instincts and return to Number 10 Ribbon mainly because of the huge numbers of fish we have been marking.
With our new charter from Exmouth on board Reel Chase, the team ran all the way to the bottom of Number 9 and headed up to Number 10. A small fish knocked the big scaley down just after lunch, but no hook up. Seeing Moana on a nice fish, Capt. Jim went to troll around behind for some photos when the scaley disappeared into a big hole and Jo was on to her first BIG Cairns Marlin! A good 10 minute fight, most of which was in the air, and the tag went in on the estimated 950lb-er (photos below).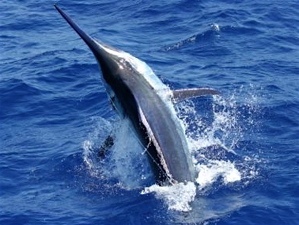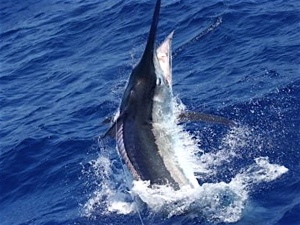 No sooner had the baits gone in the water again and we were on this time for Kurt, a nice 400lber (Kurt's fish below).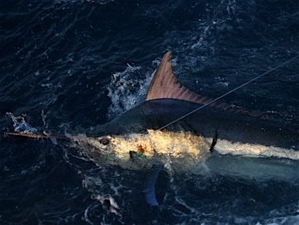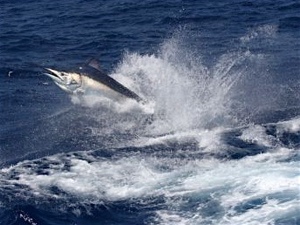 After another 3 unsuccessful bites the team headed to the anchorage only to come across Allure battling a estimated 850lb-er on 50lb, which they eventually tagged at 7.30 pm for Captain Midnight.
While watching the show, Sea Baby IV hooked up along side us and we got a very close look at their nice 900lber as she nearly jumped into our cockpit. With all this going on we had to get lucky and sure enough a frisky 200lb-er was quickly on for Kurt, also doing a good job at trying to jump in the boat. So that was our day 3 from 7 – not bad when you think its slowing down!
Photo below of another frisky small fish that kept playing with the bait, eat and spit (repeat) without hooking up and Kurt's second for the day, a 200lb-er heading into the tag pole.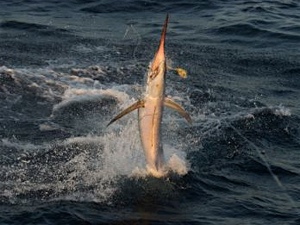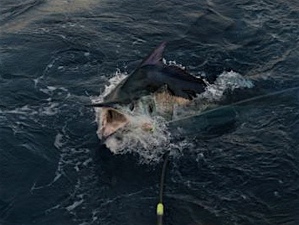 Around Reel Chase, Deano on Castille was also 3 for the day with the small one going 900lb. And the others just plain BIG. Moana also caught at least 3 big ones and most of the boats reported good action on the big girls.
Veteran Sydney Angler Robert Curry weighed an 1108lb-er on Inya Dreams in the same area. And The Crazy Horse, the 20ft tender to mothership Atlantic Princess with the AP crew on board, hooked up the monster on 50lb – disadvantaged with not enough line, the fish went over the horizon taking it all with her!
Ben on Wild Turkey caught 1 on Linden Bank but described the fishing as fairly slow. Hopefully today continues with plenty of action.
I had a hard time deciding which photos to use for this post and with the big number that Capt. Jim sent me, but I think I got it right. Our guests Jo and Kurt have taken heaps of fabulous shots. Thank you for sharing those with us – gotta love a canon! Other photos from crew Ms. Kirsty P – stills from Deckie Wade's video camera which we can't wait to see.