As Capt. Jim expected, the day after the full moon slowed considerably, except for a few boats who still are enjoying one of the best runs in recent seasons.
Inya Dreams with the ex-Kanahoee combination of PC and Brian Felton continued the Big Fish Week and Sir Reel and Kekoa managed 2 fish each to 600lb while Graham on Inkawzi dropped the monkey from his back (somewhere along Number 10), by catching 2 before lunch including a 900lb-er.
Capt. Jim spent most of the day trying to avoid said monkey and the team finished the day with just one smaller black on live bait before lunch.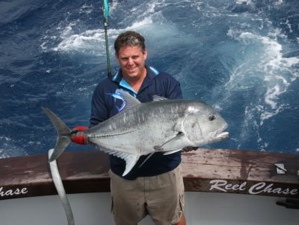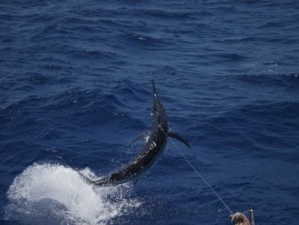 Photo is Kurts small black and another fish of the day, too big for bait.
Indications are that the bite slowed down south as Kiwi boat Ultimate Lady made the long trip back north to Number 10 from Opal Reef and Shaka also gave up the mortgage on Number 5 and joined the rest of the fleet on Number 10.
Even Smithy in his little Haines was mixing it with the fleet though Capt. Jim's not sure how he went as he was one of the few still fishing when they gave it away at 6.20 pm.
Inya Dreams' fish jumping at the back of the boat and then with it beside the boat.