Kevin and Ronnie's fish rocketing on the leaders. Big moon, big wind, big fish. That's the story from the Ribbon Reefs!Driving 30knot rain squalls, 4 metre seas and the big Momma's are back in town.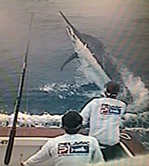 Trolling North from St. Crispen's Reef, Kekoa released a 950lb-er for world-renowned Angler Marsha B on regulation 130 chair tackle off Number 4 Agincourt. A smaller fish later in the day of Anderson Reef completed a good day in the atrocious conditions for Capt. Luke.
Meanwhile back on Reel Chase, our down-sea run starting at Number 3 Ribbon stopped abruptly just after lunch, with two quick fishing (at top) for Kevin and Ronnie at the bottom of Number 5. Although we persevered all day in the same area, we didn't raise any more.
But the big fish stories keep coming in.Reports of Hayden on the Release catching another monster the day before at the top of Number 5 after a 4 hour battle only to put the baits back in and hook-up on another similar sized fish immediately. Unfortunately this one was lost. Also on Monday, Tiger on Mistress released a good 800lb-er in the same area. Hopefully the weather eases from here on in and we can get amongst those big girls ourselves!