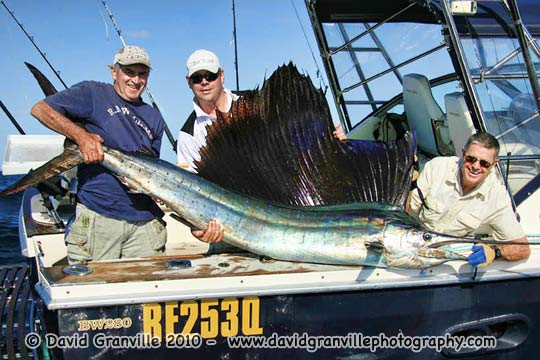 Just a few days after getting stuck into the black marlin, the Sunshine Coast clubbies have now been getting stuck into the sails.  Jeff Oates fishing solo out of his 15 footer released three sailfish and lost another black.  The 31 foot Cabo, Lynch Mob also released three sails and Blu Reela came out after lunch and got a double header within five minutes including this one pictured. There were a few more caught and lost including Ymer who were still fighting a nice black as the sun set.  The Spring Shootout (briefing Sept 30), should be a real cracker!
Meanwhile, up off Cairns, its big black marlin time!

Cool Runnings hit Linden Bank over the weekend raising three in the 300-350lb range on Saturday before hooking a solid 750lb-er on Sunday. Angler Mick from Melbourne is more familiar with hooking big barra but held his own for his first marlin release.  Great going!  Also at Linden Bank, Think Big enjoyed another great weekend on the water. Paul reports plenty of yellow fin on the grounds with quad hookups galore. Wife Sharon brought a 200lb black marlin to the back of the boat after a 30 min fight on 15kg. They also raised and hooked two more on 8kg but could not get them within tagging distance.
With more boats starting their seasons over the next couple of weeks, stay tuned for more reports!