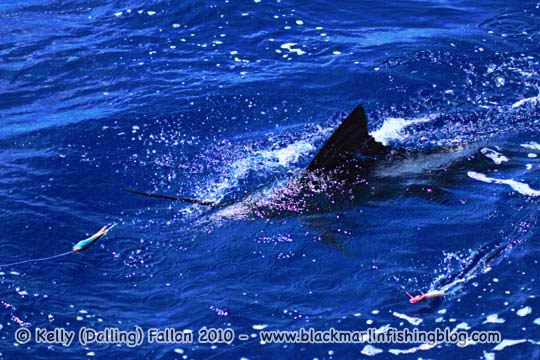 This will be the last weekly sked until the end of the season – with daily reporting so close now, there's no need for a weekly roundup.
The billfishing in Exmouth continues in leaps and bounds in the leadup to Exmouth GFC's Better Billfish Bonanza in October.  Jeni Gates reports that international angler Tom Evans is currently over there chasing a world record on fly. During his month-long stay he's already bagged some state records and is raising anywhere between 3 and 15 fish a day.

There are three new tournaments added to the tournament calendar.
Also added to the calendar, Yorkey's Knob Boating Club presents a night of Game Essentials – Pro tips on Gamefishing on 18 October at 7pm, a great night to attend if you are in the Cairns area. (Download the flyer 2mb.)
The team on board the Phantom have also now arrived in Cairns for the start of the season.  Jess reports the bait fishing on the way up was very good and that they scored a 300lb black at Jenny Louise on the way in to Cairns.
More reports from Linden Bank this time from Phill on Scarlet fishing light tackle and encountering good numbers of dolphin fish including one weighing in at 18kg for mate Drew Powel.  Also lots of yellowfin in the afternoon and they raised a small sail.
We had a successful bait fishing trip to the outer reefs off Townsville and now begin our trip up to Cairns.  We raised three hungry sails on the teasers including this one who was sucking on the end lure before we had a chance to pull it out off its mouth (picture above).  We also found the dolphin fish who were harassing the scad.